DOI: https://doi.org/10.21107/agrovigor 
Agrovigor: Jurnal Agroekoteknologi is a peer-reviewed scientific paper in the field of Agroecotechnology/Agrotechnology/Agricultural science i.e. plant science, soil science, plant breeding, pest and plant diseases. Agrovigor is published by Department of Agroecotechnology, University of Trunojoyo Madura.
Agrovigor: Jurnal Agroekoteknologi is published twice per year (March & September).
ISSN: 2477-0353 (online), 1979-5777 (print)
Agrovigor: Jurnal Agroekoteknologi has been indexed in Sinta (S3), google scholar, Garuda, and BASE

Since April 01, 2020. the journal has been Re-ACCREDITATED with grade "SINTA 3" by the Ministry of Research & Technology (Ristek/BRIN) of The Republic of Indonesia (Arjuna) as an achievement for the peer-reviewed journal which has excellent quality in management and publication. The recognition published in Director Decree No. 85/M/KPT/2020.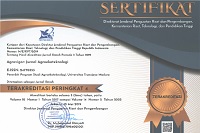 Certificate Number 14/E/KPT/2019
Editorial Office:
Department of Agroecotechnology, Faculty of Agriculture
University of Trunojoyo Madura
Jl. Raya Telang PO BOX 2, Kamal - Bangkalan 69162
http://journal.trunojoyo.ac.id/agrovigor
Email: agrovigor@trunojoyo.ac.id
Announcements
No announcements have been published.
Vol 13, No 2 (2020): September
The following articles has been accepted for publication in a future issue of Agrovigor: Jurnal Agroekoteknologi, but has not been fully edited. Content may change prior to final publication.
Table of Contents
Article
| | | |
| --- | --- | --- |
| | Widyana Rahmatika, Annika Erlita Sari | 89-93 |
| | | |
| --- | --- | --- |
| | Agustiansyah Agustiansyah, Ardian Ardian, Kukuh Setiawan, Devi Rosmala | 94-99 |
| | | |
| --- | --- | --- |
| | Ni Wayan Sri Sutari | 100-105 |
| | | |
| --- | --- | --- |
| | Eni Handayani, Tantri Palupi, Fadjar Rianto | 106-111 |
| | | |
| --- | --- | --- |
| | Zahlul Ikhsan, Hidrayani Hidrayani, Yaherwandi Yaherwandi, Hasmiandy Hamid | 117-123 |
| | | |
| --- | --- | --- |
| | Suhartono Suhartono, Gita Pawana, Sulistri Sulistri | |
| | | |
| --- | --- | --- |
| | Siti Fatimah, Ariffin Ariffin, Ardiarini Noer Rahmi, Kuswanto Kuswanto | |
| | | |
| --- | --- | --- |
| | Hermanu Triwidodo, Maizul Husna Tanjung | |