DOI: https://doi.org/10.21107/agrovigor 
Agrovigor: Jurnal Agroekoteknologi is a peer-reviewed scientific paper in the field of Agroecotechnology/Agrotechnology/Sustainable Agriculture/Agricultural science i.e. plant science, soil science, plant breeding, pest, and plant diseases. Agrovigor is published by the Department of Agroecotechnology, Universitas Trunojoyo Madura in collaboration with the Indonesian Agrotech/Agroecotechnological Society (PAGI) (see MoU).
Agrovigor: Jurnal Agroekoteknologi is published twice per year (March & September).
ISSN: 2477-0353 (online), 1979-5777 (print)
Agrovigor: Jurnal Agroekoteknologi has been indexed in Sinta (S3), google scholar, Garuda, Dimension, and BASE

Since April 01, 2020. the journal has been Re-ACCREDITATED with grade "SINTA 3" by the Ministry of Research & Technology (Ristek/BRIN) of The Republic of Indonesia (Arjuna) as an achievement for the peer-reviewed journal which has excellent quality in management and publication. The recognition was published in Director Decree No. 85/M/KPT/2020.
____________
Editorial Office:
Study Program of Agroecotechnology, Department of Agricultural Science & Technology, Faculty of Agriculture, Universitas Trunojoyo Madura
Jl. Raya Telang PO BOX 2, Kamal - Bangkalan 69162
http://journal.trunojoyo.ac.id/agrovigor
Email: agrovigor@trunojoyo.ac.id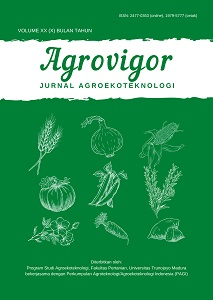 Announcements
CALL FOR SECTION EDITOR AND REVIEWER

To encourage the publication process and quality. We invited you to join us as an Editor and Reviewer.
Posted: 2022-09-23
More...

IMPORTANT ANNOUNCEMENT! Publication in English

In regards to extend the publication impact over the world, Agrovigor: Jurnal Agroekoteknologi prefer to publish in English (started from Issue 16, 2023. Therefore, we encourage authors to submit their manuscripts in English that is grammatically correct, logical, clear, and concise. We also accept manuscripts in Indonesian and ready to help send your manuscripts in the translator service. Thanks

Posted: 2022-09-18
Vol 16, No 2 (2023)
Table of Contents
Article
| | | |
| --- | --- | --- |
| | Junaidi Junaidi, Nugraheni Hadiyanti, Nur Ulfa Turrohmah, Windy Silvyana | 59-63 |
| | | |
| --- | --- | --- |
| | Ni Kadek Sudani Putri, Listihani Listihani, I Gusti Ayu Diah Yuniti, Putu Lasmi Yulianthi Sapanca, Farida Hanum, Ni Putu Pandawani, Dewa Gede Wiryangga Selangga | 64-69 |
| | | |
| --- | --- | --- |
| | Novianti Adi Rohmanna, Ronny Mulyawan, Zuliyan Agus Nur Muchlis Majid | 70-74 |
| | | |
| --- | --- | --- |
| | Naro Pandapotan Pasaribu, Enni Dwi Wahjunie, Suria Darma Tarigan | 83-90 |
| | | |
| --- | --- | --- |
| | Ratria Resti Khoirani, Nurholis Nurholis, Siti Fatimah | 91-95 |
| | | |
| --- | --- | --- |
| | Suhartono Suhartono, Edy Suryono, Yusriah Yusriah, Syaiful Khoiri | 96-101 |