Jurnal Kelautan: Indonesian Journal of Marine Science and Technology is a scientific journal that aims to become a means of disseminating the results of research and science in the field of marine science and technology, published by the Department of Marine Sciences, Trunojoyo University of Madura, Indonesia in collaboration with ISKINDO (Association of Indonesian Marine Scholars). The journal is published three times a year (April, August, December). Each article is reviewed by the experts in single blind peer-review system before it is accepted for publication.
This journal encompasses original research articles, review articles, and short communications, including: Marine and fisheries ecology and biology, Marine fisheries, Marine technology, biotechnology, Mariculture, Marine processes and dynamics, Marine conservation, Marine pollution, Marine and coastal resource management, Marine and fisheries processing technology, Salt technology, Marine geology, physical and chemical oceanography.
We encourage everyone to submit high quality article to publish in this journal. Jurnal Kelautan with registered number ISSN: 1907-9931 (Printed), 2476-9991 (Online).
Member of: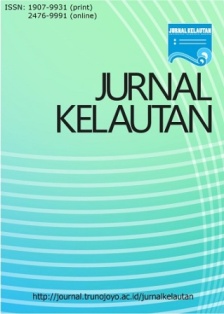 Announcements
News: Upcoming Publication

Upcoming Publication
Posted: 2023-10-18
More...
Vol 16, No 2: Agustus (2023)
Table of Contents
| | | |
| --- | --- | --- |
| | Rosita Silaban, Johny Dobo | 101-109 |
| | | |
| --- | --- | --- |
| | Dwi Rosalina, Yakub Suleman, Ainurridha Shaliha, Rezza Ruzuqi | 110-116 |
| | | |
| --- | --- | --- |
| | Siti Dinda Chrisnawati, Aninditia Sabdaningsih, Oktavianto Eko Jati, Diah Ayuningrum | 117-124 |
| | | |
| --- | --- | --- |
| | Liza Kurnia Mansur, Maruf Kasim, Ratna Diyah Palupi | 125-138 |
| | | |
| --- | --- | --- |
| | Naufal Athasyah, Mohammad Sumiran Paputungan, Dewi Embong Bulan | 139-146 |
| | | |
| --- | --- | --- |
| | Maestro Munru, Mukti Dono Wilopo, Yar Johan, Dewi Purnama, Person Pesona Renta | 147-162 |
| | | |
| --- | --- | --- |
| | Muhammad Farid Samawi, Abd. Rasyid Jalil, Shinta Werorilangi | 163-170 |
| | | |
| --- | --- | --- |
| | Eka Oviani Msen, Galuh P. W. Utami, Iriani Ira Bukorpioper | 171-176 |
| | | |
| --- | --- | --- |
| | Sri Maharani, Mario Putra Suhana, Esty Kurniawati | 177-190 |
| | | |
| --- | --- | --- |
| | Try Al Tanto, Ilham Ilham | 191-202 |