An Analysis of Code Mixing of Javanese People Uses Madurese Language
Abstract
This research is conducted in order to find code mixing used by Javanese people who used Maduranese language. This study took data between a husband and a wife. This study used qualitative descriptive method by getting the data from the field in Socah. Based on this research, it can be concluded that codemixing possibly occurred because of individual factor; like showing status, role and expertise. But it might be occurred caused by the lack of language element being used. Young children in bilingual or multilingual environments produce utterances that combine elements of both (or all) of their developing languages. This is what happened to Mrs Listijawati Redjeki, she lived in a bilingual environment in which her environment use both Madurese and Javanese in their daily conversation and it affect her to mix those two languages in her daily conversation especially when she was speaking in Bahasa Indonesia.
Keywords : Code Mixing, Javanese People, Maduranese Language
References
Code-switching and Code-mixing in Kashmiri : A linguistic overview . (n.d.). 1–22.
Silaban, S., & Marpaung, T. I. (2020). An analysis of code mixing applied by indonesia lawyers club program on tv one. Journal of English Teaching as Foreign Language, 6(3), 1–17. http://repositori.usu.ac.id/handle/123456789/18501
Waris, A. M. (2012). Code switching and mixing (Communication in Learning Language). Jurnal Dakwah Tabligh, 13(1), 123–135.
Faraj, S. J. (2018). Code Switching and Code Mixing. In Journal of University of Human Development (Vol. 4, Issue 4, p. 86). https://doi.org/10.21928/juhd.v4n4y2018.pp86-97
D., & Elsa Davistasya, R. (2019). Premise : Journal of English Education and Applied Linguistics CODE-MIXING IN LANGUAGE STYLE OF SOUTH JAKARTA COMMUNITY INDONESIA. 8(2), 193–213. https://fkip.ummetro.ac.id/journal/index.php/english
DOI:
https://doi.org/10.21107/jscl.v1i1.17702
Refbacks
There are currently no refbacks.
FLAG COUNTER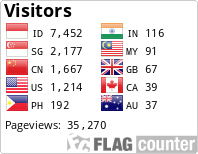 STATCOUNTER

Journal of Social, Culture, and Language
Jl. Raya Telang, Telang, Kecamatan Kamal, Kabupaten Bangkalan, Provinsi Jawa Timur 69162
Handphone: +6281356287310
E-mail: jscl@trunojoyo.ac.id