An Analysis of Code Switching and Code Mixing in Yowis-Ben 2018 Movie: A Sociolinguistics Study
Abstract
This research is conducted in order to find code switching and code mixing. This study took data in a movie "In Yowis-Ben 2018".  This study used qualitative descriptive method by getting the data from movie. Based on this research, In the Yowis-Ben movie, the character of bayu was created by the author in a very unique way. Using the regional language as the main language in the movie but also  not  leaving  indoneisan  and  english  language  as  the  second  language.  The  code  mixing  and code switching that appear in bayu's character  giving new nuances in movie and represent the daily conversation carried out by javanese people. In this case, the people of the malang city. 
Keywords: Gesture, Class Teaching, and Motoric Movement 
References
Chaer, A., Agustina, L. (2004). Sosiolinguistik:Perkenalan Awal. Jakarta: Rineka Cipta
Nurlianiati, M. S., Hadi, P. K, Meikayanti, E. A. (2019).-Campur Kode dan Alih- Kode dalam Video -Youtube Bayu-Skak: Widyabastra: Jurnal lmiah Pembelajaran Bahasa dan Sastra Indonesia, 7 (1), 1-8
Refbacks
There are currently no refbacks.
FLAG COUNTER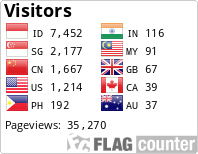 STATCOUNTER

Journal of Social, Culture, and Language
Jl. Raya Telang, Telang, Kecamatan Kamal, Kabupaten Bangkalan, Provinsi Jawa Timur 69162
Handphone: +6281356287310
E-mail: jscl@trunojoyo.ac.id