The Application of Gestures In Class Teaching by Teachers to Students At Carangwulung Elementary School, Wonosalam
Abstract
This research is conducted in order to find the application of gestures in class teaching. This study took data between teachers and students.  This study used qualitative descriptive method by getting the data from Carangwulum Elementary School, Wonosalam, Jombang. Based on this research, it can be concluded that there are types of gestures used by teachers in teaching methods in the classroom. The use of gestures used by students has a positive impact on students, including students     being able to improve motoric movements in students, making it easier to receive material, increasing student interest in learning, and making the class more active and interactive. Therefore, the importance of a teacher using gesture. Besides having an impact on students, it also makes class fun.
Keywords: Gesture, Class Teaching, and Motoric Movement
References
Fadiana, M. (2016). Peran Gesture dalam Pembelajaran Matematika. Prosiding
Seminar Nasional Masif II, 44–49.
McNeill, D. (1992). Hand and Mind: What Gestures Reveal About Thought.
Chicago, IL: The University of Chicago Press
Clough, S., & Duff, M. C. (2020). The Role of Gesture in Communication and Cognition: Implications for Understanding and Treating Neurogenic Communication Disorders. Frontiers in Human Neuroscience, 14(August). https://doi.org/10.3389/fnhum.2020.00323
Lüke, C., Ritterfeld, U., Grimminger, A., Rohlfing, K. J., & Liszkowski, U. (2020).
Integrated Communication System: Gesture and Language Acquisition in Typically Developing Children and Children With LD and DLD. Frontiers in Psychology, 11(February), 1–13. https://doi.org/10.3389/fpsyg.2020.00118
Universitas, M. H.-J. P. J. I., & 2017, undefined. (2017). Gestures sebagai Concrete Paving dalam Pemerolehan Bahasa Anak. Eco-Entrepreneur.Trunojoyo.Ac.Id, 10(2), 78–83. http://journal.trunojoyo.ac.id/pamator
Refbacks
There are currently no refbacks.
FLAG COUNTER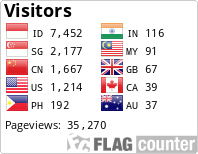 STATCOUNTER

Journal of Social, Culture, and Language
Jl. Raya Telang, Telang, Kecamatan Kamal, Kabupaten Bangkalan, Provinsi Jawa Timur 69162
Handphone: +6281356287310
E-mail: jscl@trunojoyo.ac.id