Jurnal Kelautan: Indonesian Journal of Marine Science and Technology is a scientific journal that aims to become a means of disseminating the results of research and science in the field of marine science and technology, published by the Department of Marine Sciences, Trunojoyo University of Madura, Indonesia. The journal is published two times a year in April and October, since 2008. Each article is reviewed by the experts in peer-review system before it is accepted for publication.
This journal encompasses original research articles, review articles, and short communications, including: Marine and fisheries ecology and biology, Marine fisheries, Marine, biotechnology, Mariculture, Marine processes and dynamics, Marine conservation, Marine pollution, Marine and coastal resource management, Marine and fisheries processing technology, Salt technology, Marine geology, physical and chemical oceanography.
We encourage everyone to submit high quality article to publish in this journal. Jurnal Kelautan with registered number P-ISSN: 1907-9931, e-ISSN: 2476-991.
Member of: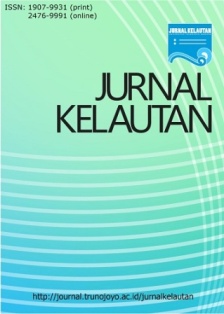 Announcements
Upcoming Publication

Jurnal Kelautan Volume 10 no 1 April 2017 will be published on April 2017. Article will be published online more or less 1 month after accepted for publication following peer review process.

We invite everyone to submit a paper for this publication as soon as possible. We will accept and prioritise article in English starting volume 10 no 1, April 2017

Posted: 2016-11-03
Vol 9, No 2: Oktober (2016)
Table of Contents
| | | |
| --- | --- | --- |
| | Dewy Septiyanti Yolanda, Firman Farid Muhsoni, Aries Dwi Siswanto | 93-98 |
| | | |
| --- | --- | --- |
| | Wisnu Arya Gemilang, Gunardi Kusumah | 99-106 |
| | | |
| --- | --- | --- |
| | Try Al Tanto, Semeidi Husrin, Ulung Jantama Wisha, Aprizon Putra, Radha Karina Putri, - Ilham | 107-121 |
| | | |
| --- | --- | --- |
| | Ulung Jantama Wisha, Muh Yusuf, Lilik Maslukah | 122-129 |
| | | |
| --- | --- | --- |
| | Herlambang Aulia Rachman, I Gede Hendrawan, I Dewa Nyoman Nurweda Putra | 144-154 |
| | | |
| --- | --- | --- |
| | Dendy Mahabror, Abdul Rohman Zaky | 155-163 |
| | | |
| --- | --- | --- |
| | Koko Ondara, Ulung Jantama Wisha | 164-174 |
| | | |
| --- | --- | --- |
| | Herdiana Mutmainah, Dominika Wara Christiana, Gunardi Kusumah | 175-187 |
| | | |
| --- | --- | --- |
| | Marita Ika Joesidawati | 188-198 |