DOI: https://doi.org/10.21107/sml
Simulacra (e-ISSN: 2656-8721) is an international, peer-reviewed, open access journal in sociology. Founded in 2018, with a current article acceptance rate of 13.6%, Simulacra's primary mission is to publish original work of interest to the discipline of sociology, the development of new theories in sociology, the results of sociological research that advances our understanding of our postmodern world, and important innovations in sociological research methods. Simulacra is published twice a year (June and November) by the Center for Sociological Studies and Community Development, Department of Sociology, Faculty of Social and Cultural Sciences, Universitas Trunojoyo Madura, Indonesia.
Simulacra has been abstracted and indexed in these prominent abstracting and indexing services: DOAJ, Index Copernicus, EBSCO, Google Scholar, SINTA 2, Crossref, Dimensions, Worldcat, Harvard Library, University of Oxford Libraries, Universiteit Leiden, DRJI, Scilit MDPI, PKP Index, ROAD, BASE, Moraref, Columbia University Library, University of Sheffield Library, CORE.
Simulacra does not charge any submission or publication fees. Before submitting, please ensure that your manuscript is in line with the focus and scope of Simulacra, is written in English (American-English), follows the instructions in the Author Guidelines and uses the article template.
Simulacra Editorial Office
Center for Sociological Studies and Community Development
Building RKB-E, 1st Floor, Department of Sociology
Faculty of Social and Cultural Sciences
Universitas Trunojoyo Madura
Jl. Raya Telang, Kamal - Bangkalan, East Java, Indonesia 69162
Email: simulacra@trunojoyo.ac.id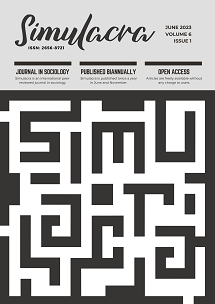 Announcements
Call for Papers: Simulacra, Volume 6, Issue 1, June 2023

Simulacra, Volume 6, Issue 1, 2023, will be published in June 2023. We invite lecturers, researchers, students of social sciences and other related fields to submit their academic manuscripts, both textual and fieldwork studies, to this journal. Deadline for submission of articles: April 30, 2023.

Posted: 2022-06-25
Vol 5, No 2 (2022)
Table of Contents
Front Cover
| | | |
| --- | --- | --- |
| | Front Cover Simulacra, Volume 5, Issue 2, November 2022 | |
Front Page
| | | |
| --- | --- | --- |
| | Front Page Simulacra, Volume 5, Issue 2, November 2022 | |
Articles
| | | |
| --- | --- | --- |
| | Muhtar Muhtar, Bambang Pudjianto, Habibullah Habibullah | 13-28 |
| | | |
| --- | --- | --- |
| | Muhammad Farhan Hawari, Karunia Haganta, Firas Arrasy | 43-56 |
| | | |
| --- | --- | --- |
| | Cucu Nur Hayati, A. Bakir Ihsan, Muhammad Farras Shaka | 57-70 |
| | | |
| --- | --- | --- |
| | Purnata Talukder, Sakin Tanvir | 71-83 |
| | | |
| --- | --- | --- |
| | Yayah Cheriyah, Amanda Rochima Hadi | 85-98 |
| | | |
| --- | --- | --- |
| | Muhammad Zulfa Alfaruqy, Anandaru Padmonurcahyo, Adinda Zahrah Salsabila | 99-112 |
Back Cover
| | | |
| --- | --- | --- |
| | Back Cover Simulacra, Volume 5, Issue 2, November 2022 | |