DOI: https://doi.org/10.21107/metalingua
Jurnal Pendidikan Bahasa dan Sastra Indonesia Metalingua, with E-ISSN 2528-6684 (Online) and ISSN 2528-4371 (Print) published by Departement of Indonesian Language and Literature Education, University of Trunojoyo, Madura in collaboration with ADOBSI. It's a biannual refereed journal concerned with the practice and processes of linguistic and education. It provides a forum for academics, practitioners, and community representatives to explore issues and reflect on practices relating to the full range of engaged activity. This journal is a peer-reviewed online journal dedicated to the publication of high-quality research focused on research, implementation.
The scopes are:
Linguistics: phonology, morphology, syntax, discourse analysis, psycholinguistics, sociolinguistics, and critical discourse analysis.
Literature: local literature studies, Indonesian literature, foreign literature studies, children literature, literature studies for character education, and other literary studies.
Indonesian Language and Literature: curriculum development, learning methods, learning materials, learning media, assessment, Indonesian language learning across curricula, information and communications technology in Indonesian language learning, language skills, and other Indonesian language learning analyses.
To submit your article to Jurnal Pendidikan Bahasa dan Sastra Indonesia Metalingua ;
We proudly announce that Jurnal Pendidikan Bahasa dan Sastra Indonesia Metalingua has indexed by Google Scholar, Portal Garuda, Dimensions, etc
Publisher:
Progam Studi Pendidikan Bahasa dan Sastra Indonesia
Fakultas Ilmu Pendidikan Universitas Trunojoyo Madura
Gedung RKB-D 201,
Jalan Raya Telang PO BOX 2 Kamal, Bangkalan-Madura
Laman: https://journal.trunojoyo.ac.id/metalingua
Email: metalingua.pbsi@trunojoyo.ac.id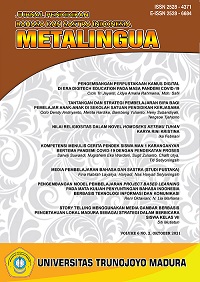 Announcements
Announcement

Jurnal Pendidikan Bahasa dan Sastra Indonesia Metalingua the journal that devoted to the development of language, literature, and and its learning is fully committed to the cause of print out and digital preservation of scientific research. The digital content of the Journal is extremely valuable and measures are in place to ensure both its current accessibility and long-term preservation.
Posted: 2016-04-01
Vol 8, No 2 (2023): Metalingua, Edisi Oktober 2023
Table of Contents
ARTICLES
| | | |
| --- | --- | --- |
| | Erdita Nur Rahmawati, Fitri Amilia | 77-85 |
| | | |
| --- | --- | --- |
| | Zulmy Faqihuddin Putera, Nurul Shofiah | 86-94 |
| | | |
| --- | --- | --- |
| | Rafiqoh Abiyyu Purwanti, Yunita Suryani | 95-102 |
| | | |
| --- | --- | --- |
| | Sri Rahayu, Yoharwan Dwi Sudarto | 103-107 |
| | | |
| --- | --- | --- |
| | Arsantika Febrianti.N, Gigit Mujianto | 108-122 |
| | | |
| --- | --- | --- |
| | Ulfa Kurniasih, Naila Halisya, Shofie Azizah, Fidya Nur Meilia | 123-131 |
| | | |
| --- | --- | --- |
| | Prissilia Prahesta Waningyun, Afifah Rohmiyati | 132-137 |
| | | |
| --- | --- | --- |
| | Zulfa Arianti, Mahmudah Mahmudah, Andi Sahtiani Jahrir | 138-145 |
| | | |
| --- | --- | --- |
| | Siti Mutiatun, Ersa Alami | 146-149 |
| | | |
| --- | --- | --- |
| | Suci Lestari, Eti Sunarsih, Sri Mulyani | 150-155 |
| | | |
| --- | --- | --- |
| | Ira Fatmawati, Hani'ah Hani'ah | 156-160 |
| | | |
| --- | --- | --- |
| | Riswanda Himawan, Ari Kusmiatun, St. Nurbaya, Kastam Syamsi | 161-168 |