ISSN 2407-4489 (Print) ISSN 2528-7303 (Online)
DOI: 10.21107/edutic
Jurnal Ilmiah Edutic Pendidikan dan Informatika is a journal published by the Informatics Education Study Program, Universitas Trunojoyo Madura. Eductic contains publications on the results of thoughts and research in the field of education and information technology. Eductic is published twice a year, namely in May and November.
FOCUS & SCOPE
Edutic scientific journals focus, but are not limited to, articles within the scope of Education and Informatics. Therefore Edutic will only process and publish articles submitted in the areas of:
Informatics Education (E-Learning, Multimedia Education, Vocational Learning Media, Vocational Education Psychology, Vocational Learning Strategies, Vocational Learning Theory, Vocational Learning Models, Vocational Learning Methods, Vocational Teaching Approaches, Vocational Learning Evaluation, Vocational Learning Planning).
Informatics (Information Systems, Data Mining, Computer Networks, Database Systems, Electronics, Image Processing, Gaming Technology, Artificial Intelligence, Information Retrieval Systems)
LINK: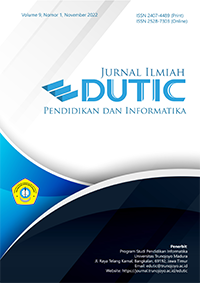 Announcements
No announcements have been published.
Vol 8, No 2 (2022): MEI 2022
Table of Contents
Articles
| | | |
| --- | --- | --- |
| | Laili Cahyani, Muchamad Arif | 97-108 |
| | | |
| --- | --- | --- |
| | Etistika Yuni Wijaya | 109-116 |
| | | |
| --- | --- | --- |
| | Bei Harira Irawan | 117-125 |
| | | |
| --- | --- | --- |
| | Surya Priyambudi, Yulis Setyowati, Muhammad Harist Murdani | 126-135 |
| | | |
| --- | --- | --- |
| | Arista Pratama, Alfia Rahmania Putri, Eristya Maya Safitri | 136-146 |
| | | |
| --- | --- | --- |
| | Nuru Aini, Etistika Yuni Wijaya | 147-156 |