ISSN 2407-4489 (Print) ISSN 2528-7303 (Online)
DOI: 10.21107/edutic
Jurnal Ilmiah Edutic Pendidikan dan Informatika is a journal published by Progran Studi Pendidikan Informatika, Universitas Trunojoyo Madura and in collaboration with Peneliti Teknologi Teknik Indonesia (PTTI). Eductic contains publications on the results of thoughts and research in the field of education and information technology. Eductic is published twice a year, namely in May and November.
FOCUS & SCOPE
Edutic scientific journals focus, but are not limited to, articles within the scope of Education and Informatics. Therefore Edutic will only process and publish articles submitted in the areas of:
Informatics Education (E-Learning, Multimedia Education, Vocational Learning Media, Vocational Education Psychology, Vocational Learning Strategies, Vocational Learning Theory, Vocational Learning Models, Vocational Learning Methods, Vocational Teaching Approaches, Vocational Learning Evaluation, Vocational Learning Planning).
Informatics (Information Systems, Data Mining, Computer Networks, Database Systems, Electronics, Image Processing, Gaming Technology, Artificial Intelligence, Information Retrieval Systems)
LINK: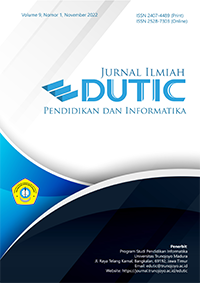 Announcements
Editorial Update

Dear Authors, Editors, Reviewers, and Readers

Jurnal Ilmiah Edutic Pendidikan dan Informatika made some changes to manuscripts management to improve the quality of publications. The changes will start on the issue of Jurnal Ilmiah Edutic Pendidikan dan Informatika Volume 9 Issue 1 as of November 2022.

The number of manuscripts per issue increased to 10 articles.
The journal layout has improvements as stated in the journal template.
The front cover and back cover of the journal are updated.
Addition of editorial team members and peer reviewers.

Thank You

Posted: 2022-11-01
More...
Vol 9, No 2: Mei 2023
Table of Contents
Articles
| | | |
| --- | --- | --- |
| | Akbar Wiguna, Cindy Cahyaning Astuti, Fitria Nur Hasanah | 101-107 |
| | | |
| --- | --- | --- |
| | Anas Arfandi, Sri Wulandari, Muhammad Nasir Malik, Muhammad Agung, Abdul Muis Mappalotteng | 108-117 |
| | | |
| --- | --- | --- |
| | M. Miftach Fakhri, Dyah Darma Andayani, Andi Baso Kaswar, Ainun Zahra Adistia, Della Fadhilatunisa | 127-138 |
| | | |
| --- | --- | --- |
| | Arin Yuli Astuti, Sugianti Sugianti, Ismail Abdurozzaq | 139-148 |
| | | |
| --- | --- | --- |
| | Andy Triyanto Pujo Raharjo, Windi Eka Triatma, Yovi Litanianda | 149-161 |
| | | |
| --- | --- | --- |
| | Elok Putri Nimasari, Adi Fajaryanto Cobantoro, Sony Dwiki Andika, Moh. Bhanu Setyawan | 162-177 |
| | | |
| --- | --- | --- |
| | Puji Rahayu Ningsih, Prita Dellia, Medika Risnasari, Laili Cahyani, Rikanawati Rikanawati, Ray Albian | 178-187 |
| | | |
| --- | --- | --- |
| | Rizky Amalia, Saffana Assani', Muhamad Afif Effindi, Etistika Yuni Wijaya, Nuru Aini | 188-200 |
| | | |
| --- | --- | --- |
| | Luluk Mauli Diana, Muchamad Arif, Evy Maya Stefany, Nuru Aini | 201-211 |