Jurnal Pena Sains: Jurnal Pendidikan Sains dan Sains Murni (p-ISSN: 2407-2311) (e-ISSN: 2527-7634) is published by Natural Science Education Study Program, University of Trunojoyo Madura as a medium to improve the creativity of lecturer, academics, practitioners, researchers, relating to the science education and science. The journal is published twice a year in April and October. Jurnal Pena Sains in collaboration with the Perkumpulan Pendidik IPA Indonesia (PPII).
We are recognized as Nationally Accredited Journal by DGHE (Ministry of Research, Technology and Higher Education, Republic of Indonesia) via Decree No. 23/E/KPT/2019 (Start from Volume 6 (1), 2019).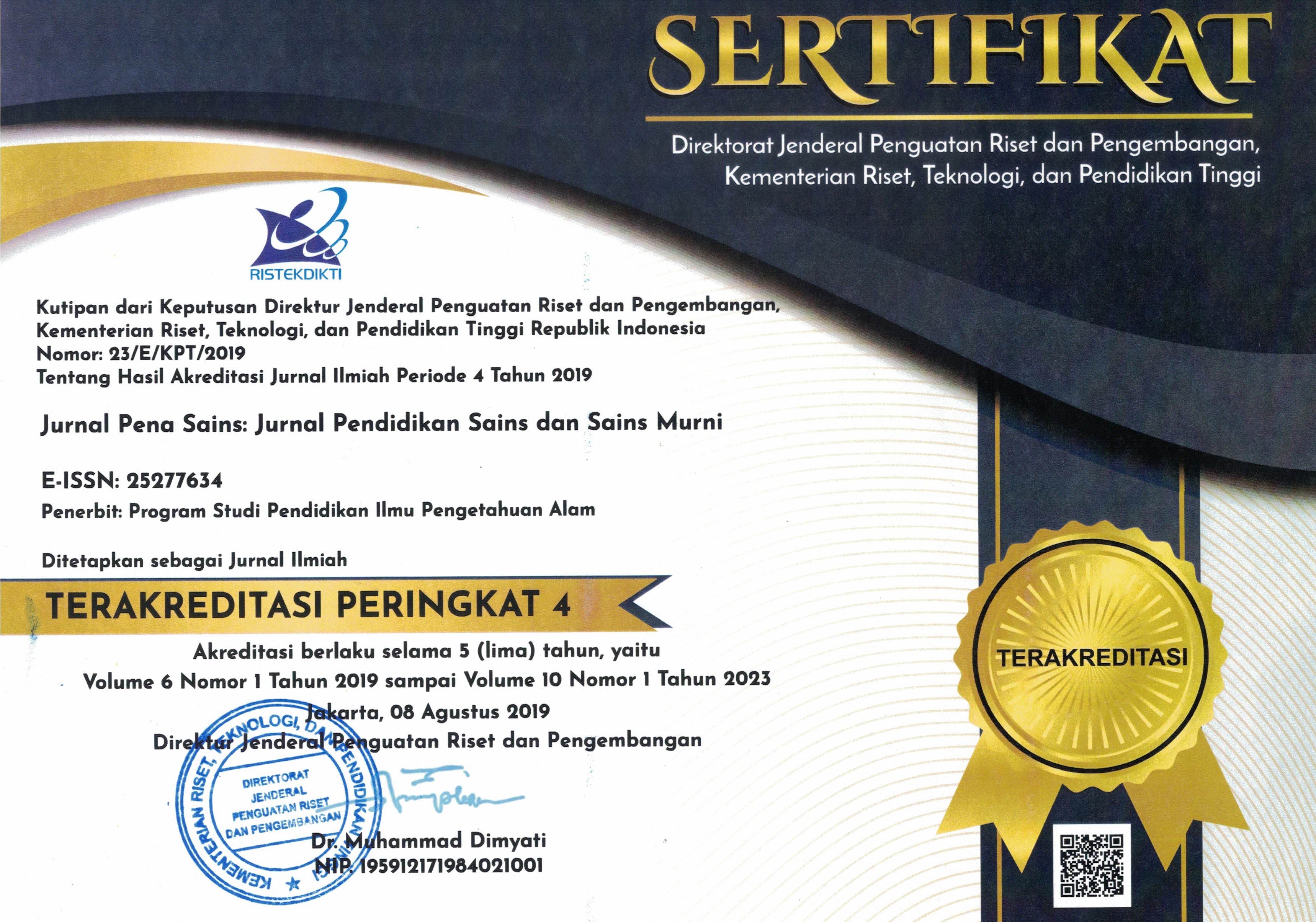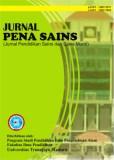 Announcements
No announcements have been published.
Vol 10, No 2 (2023): Jurnal Pena Sains
Table of Contents
| | | |
| --- | --- | --- |
| | Defi Elfrida, Rini Selly | 48-56 |
| | | |
| --- | --- | --- |
| | Arief Setyo Nugroho, Agustina Wahyuningsih, Retno H, Anatri Desstya, Yulia Maftuhah Hidayaati | 57-64 |
| | | |
| --- | --- | --- |
| | Annisa Novianti Taufik, Septi Kurniasih, Cahya Muliana Sari, Lukman - Nulhakim, Dase Erwin Juansah | 65-72 |
| | | |
| --- | --- | --- |
| | Allefeti Sandrika, Muhammad Abdurrahman Munir, Veriani Aprilia, Emelda Emelda | 73-79 |
| | | |
| --- | --- | --- |
| | Liska Berlian, Achmad Hufad, Maman Fathurrahman, Annisa Novianti Taufik, Siti Muhasitoh Mulyani | 80-87 |
| | | |
| --- | --- | --- |
| | Erlina Tamo Ina, Yohana Makaborang, Riwa Rambu Hada Enda | 88-94 |