Egosentrisme Anak pada Perkembangan Kognitif Tahap Praoperasional
Abstract
Egocentric thinking is the inability of children to see the perspective of others in seeing problems and prioritizing their own perspectives. Egocentric many appear at an early age. Related to this, this research purpose to analyze the egocentrism of children in cognitive development, in the preoperational stage.This research is a descriptive study using a quantitative approach. The sample of this research was 30 children aged 4-6 years. The research sample was taken with a total sampling technique. The results of the analysis data showed that the children's egocentrism in cognitive development in the preoperational stage reached 76.33% with a very high category. Each aspect value are imaginative thinking amounted to 72.08%, egocentric language amounted to 82.92%, had a high I amounted to 74.58%, high curiosity amounted to 80.42%, and language development began rapidly amounted to 71, 67%.
Keywords
Egocentrism; Cognitive; Praoperational Stage; Early Childhood
References
Azhari. (2015). Peran Guru dalam Mengembangkan Kemampuan Imajinasi terhadap Keterampilan Bercerita pada anak Usia Dini . Bunaya: Jurnal Pendidikan Anak. 1(2). 93-111.
Fatimah, Ibda. (2015). Perkembangan Kognitif: Teori Jean Piaget. Jurnal Intelektualita. 3(1), 27-38.
Hayati, Nur., Cholimah, Nur., & Christianti, Martha. (2017). Identifikasi Keterampilan Kognitif Anak Usia 2-6 Tahun di Lembaga Paud Kecamatan Sleman, Yogyakarta. Jurnal Pendidikan Anak. 6(2). 181-189.
Khadijah. (2016). Pengembangan Kognitif Anak Usia Dini. Medan: Perdana Publishing
Mu'min, Sitti Aysiah. (2013). Teori Perkembangan Kognitif Jean Piaget. Jurnal Al-Ta'dib. 6(1), 89-99.
Mustari, Muhamad. (2014). Nilai Karakter, Refleksi untuk Pendidikan. Jakarta: Rajawali Pers.
Nadhirah, Yahdinil Firda. (2017). Perilaku Ketidakmatangan Sosial Emosional Pada Anak Usia Dini. As-sibyan: Jurnal Pendidikan Anak Usia Dini. 2(1), 59-74.
Nissa, Khoirun & Masturah, Alifah Nabilah. (2019). Hubungan Antara Egosentrisme dengan Penerimaan Sosial Siswa Reguler Terhadap Siswa Berkebutuhan Khusus Di Sekolah Inklusi. Jurnal Psycho Holistic. 1(1), 38-46.
Novitasari, Yesi. (2017). Development of child activity sheet by using the scientific approach at ethnic subtheme to introduce Indonesian cultural variety. In Proceeding the 1st International Conference on Education Innovation (Vol. 1, No. 1, pp. 116-120).
Novitasari, Yesi. (2018). Analisis Permasalahan Perkembangan Kognitif Anak Usia Dini. PAUD Lectura: Jurnal Pendidikan Anak Usia Dini, 2(01), 82–90.
Patmonodewo, Soemiarti. (2003). Pendidikan Anak Prasekolah, Jakarta: Rineka Cipta.
Rosalina, Anita. (2011). Peningkatan Kemampuan Bahasa Anak Usia Dini Melalui Kegiatan Bermain. Jurnal Psycho Idea. 9(1). 19-35.
Rusniah. (2017). Meningkatkan Perkembangan Bahasa Indonesia Anak Usia Dini Melalui Penggunaan Metode Bercerita pada Kelompok A Di Tk Malahayati Neuhen Tahun Pelajaran 2015/2016. Jurnal Edukasi:Media Kajian Bimbingan Konseling.
Sejati, Sugeng. (2019). Implikasi Egosentris dan Spiritual Remaja dalam Mencapai Perkembangan Identitas diri. Jurnal Ilmiah Syiar. 19(1), 103-126.
Silmi, Millati & Kusmarni. Yani. (2017). Menumbuhkan Karakter Rasa Ingin Tahu Siswa dalam Pembelajaran Sejarah Melalui Media Puzzle. Jurnal Factum, 6(2), 230-242.
Sugiyono. (2012). Metode Penelitian Bisnis Pendekatan Kuantitatif, Kualitatif dan R&D. Bandung: Alfabeta.
Supriatna, Nana. (2019). Pengembangan Kreativitas Imajinatif Abad Ke-21 dalam Pembelajaran Sejarah. Historia: Jurnal Pendidik dan Peneliti Sejarah. 2(2). 73-82.
Syarifin, Ahmad. (2017). Percepatan Perkembangan Kognitif Anak: Analisis Terhadap Kemungkinan dan Persoalannya. Jurnal Al Bahtsu, 2(1), 1-8
Wibowo, Agus. (2012). Pendidikan Karakter, Strategi membangun karakter bangsa berperadaban. Yogyakarta: Pustaka Pelajar.
Yamin, H. Martinis & Sanan, Sabri Jamilah. (2010). Panduan Pendidikan Anak Usia Dini. Jakarta: GP Press.
Refbacks
There are currently no refbacks.
Copyright (c) 2020 Yesi Novitasari, Danang Prasetyo

This work is licensed under a
Creative Commons Attribution 4.0 International License
.
Diterbitkan oleh: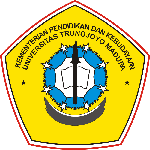 Program Studi Pendidikan Guru Pendidikan Anak Usia Dini, Fakultas Ilmu Pendidikan
Universitas Trunojoyo Madura.
Jl. Raya Telang PO BOX 2 Kamal, Bangkalan, Jawa Timur 69162
Telp. (031)3014239/ Fax. (031)3011506