Peningkatan Keterampilan Motorik Kasar Anak Usia 4-5 Tahun Melalui Permainan Tradisional Tambi-Tambian
Abstract
The aim of this research is to enhance the children's gross motor skill through traditional games "Tambi-tambian". Traditional games are very useful for the basic development of children and through it children recognize and preserving local culture. The research was conducted among 11 children of group A at TK Nasional KPS Balikpapan. The procedures for this action research using Kemmis and McTaggart's model through four stages: planning, action and observation, reflection. The data were collected using interview, observation, and documentation. Data analysis is carried using both quantitative and qualitative analysis. The results of research show enhancement of gross motor skill through traditional games "Tambi-tambian". Pre-intervensi, children's gross motor skill is 53,41%, after the conducted action children's gross motor skill increasing in the 1st cycle is 68,86% and 2ndcycle is 81,59%. Traditional games "Tambi-tambian" contributes to enhance children's gross motor skill.
References
Achroni, Keen. Mengoptimalkan Tumbuh Kembang Anak Melalui Permainan Tradisional. Jogjakarta: Javalitera, 2012.
Akbari, H., Abdoli, B., Shafizadeh, M., Khalaji, H., Hajihosseini, S., Ziaee, V. (2009, Juni). The Effect of Traditional Games in Fundamental Motor Skill Development in 7-9 Years-Old Boys. Iran Journal of Pediatrics 19(2). 123-129. Retrieved from http://www.bioline.org.br/pdf?pe09019.
Apriliawati, A. T. (2016). Penerapan Permainan Tradisional dalam Pembelajaran Pendidikan Jasmani, Olahraga, Kesehatan, Terhadap Kemampuan Motorik Siswa. Jurnal Pendidikan Olahraga dan Kesehatan 4(2). 522-528. Retrieved from http://jurnalmahasiswa.unesa.ac.id/index.php/jurnal-pendidikan-jasmani/article/download/19559/17877/ISSN: 2338-798X
Decaprio, Richard. Aplikasi Teori Pembelajaran Motorik Di Sekolah. Jogjakarta, DIVA Press, 2013.
Gallahue, David L dan John C. Ozmun. Understanding Motor Development Infant, Children, Adolescents, Adults Sixth Edition. America: Mc Graw Hill, 2006.
Hamzuri dan Tiarma Rita Siregar. Permainan Tradisional Indonesia. Jakarta: Direktorat Permuseuman dan Museum Negeri Provinsi seluruh Indonesia, 1998.
Hurlock, Elizabeth B. Perkembangan Anak Jilid I Edisi Keenam, terjemahan Meitasari Tjandrasa dan Muslichah Zarkasih. Jakarta: Erlangga. 1978.
Khasanah, I., Prasetyo, A., dan Rakhmawati, E. (2011). Permainan Tradisional Sebagai Media Stimulasi Aspek Perkembangan Anak Usia Dini. Jurnal Penelitian PAUDIA, 1(1), 91-105. doi: http://dx.doi.org/10.26877/paudia.v1i1.261
Liu, T., Hamilton, M., dan Smith, S. (2015, April). Motor Proficiency of The Head Start and Typically Developing Children on MABC-2. Journal of Child & Adolescent Behavior, 3(2), 1-4. doi: 10.4172/2375-4494.1000198
Papalia, Diane E, Sally Wendkos Old, dan Ruth Duskin Feldman. Human Development Edisi Kesembilan, terjemahan A. K. Anwar. Jakarta: Prenadanedia Group, 2008.
Sudaryono. Classroom Action Research Teori dan Praktek Penelitian Tindakan Kelas. Jakarta: Lentera Ilmu Cendekia, 2014.
Sujiono, Yuliani Nurani. Konsep Dasar Pendidikan Anak Usia Dini. Jakarta: Indeks, 2012.
Suyadi dan Maulidya Ulfah. Konsep Dasar Paud. Bandung: PT. Remaja Rosdakarya, 2015.
Tedjasaputra, Mayke S. Bermain, Mainan dan Permainan. Jakarta: Grasindo, 2005.
Zawi, K., Lian, D. K. C., Abdullah, R. T. (2014). Gross Motor Development of Malayasian Hearing Impaired Male Pre and Early School Children. International Education Studies 7(13). http://dx.doi.org10.5539/ies.v7n13p242
DOI:
https://doi.org/10.21107/pgpaudtrunojoyo.v5i2.3982
Refbacks
There are currently no refbacks.
Copyright (c) 2018 Iis Verawati Simatupang

This work is licensed under a
Creative Commons Attribution 4.0 International License
.
Diterbitkan oleh: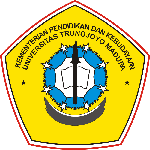 Program Studi Pendidikan Guru Pendidikan Anak Usia Dini, Fakultas Ilmu Pendidikan
Universitas Trunojoyo Madura.
Jl. Raya Telang PO BOX 2 Kamal, Bangkalan, Jawa Timur 69162
Telp. (031)3014239/ Fax. (031)3011506