Pembelajaran Bahasa Inggris pada Anak Usia Dini di Kec Sukolilo Surabaya
Abstract
English has been used as a language of communication since early childhood. These demands make parents vying to include their children to schools that use English as a medium of language in learning. Learning English as a foreign language in Indonesia began to reach the level of early childhood education. Children aged 0-6 years which is a golden age (golden age) and is a critical period in the stage of human life that will determine the development of the next child. All aspects of language use should be introduced to the child before this golden age ends. English on the AUD has begun to be introduced at the kindergarten level. In learning English requires appropriate learning methods to increase interest and desire of students in using English in learning activities that are fun and interested students, both oral and written fluently and in accordance with its social context. This research seeks to gain knowledge about early childhood education related to English language learning in kindergarten education in Sukolilo sub-district of Surabaya city. Data collection techniques were conducted by interviews to obtain verbal information directly. From the total number of 57 kindergartens in Sukolilo sub-district, there are 28 kindergarten that become the research place. From the data obtained, as many as 28 kindergarten who became the subject of research has provided learning English during the learning proces.
Keywords
Learning, English, Early Childhood
References
Arikunto, S. 2007. Manajemen penelitian. Jakarta: Rineka Cipta
Depdiknas. 2003. Undang-Undang RepublikIndonesia Nomor 20 Tahun 2003 tentang Sistem Pendidikan Nasional. Jakarta: Depdagri.
Ela, N. 2012. Peningkatan Penguasaan Kosa Kata Anak Usia Dini Melalui Aktivitas Gerak dan lagu. Upi Bandung. Skripsi. Tidak Diterbitkan. Online (Repository.upi.edu)
Fakhruddin, A., U. 2015. Teori Sosikultural Vygotsky (Pendekatan dalam Pendidikan Anak Usia Dini. Majalah Ilmiah Pawiyatan Edisi Khusus, Vol. XXII, (2) Juli.
Miranti, I., dkk. 2015. Penggunaan Media Lagu Anak-anak dalam Mengembangkan Kemampuan Kosakata Bahasa Inggis Siswa di PAUD. Faktor Jurnal Ilmiah Pendidikan, Vol. II (2) Juli.
Mukhlisah, A., M. 2015. Pengembangan Kognitif Jean Piaget dan Peningkatan Belajar Anak Diskalkulia. Jurnal Kependidikan Islam, Vol. 6 (2).
Santrock, J., W. 2004. Child Development tenth edition. New York: McGraw Hill Companies.
Sulistyo, G., H. 2009. Pembelajaran Bilingual pada Pendidikan Anak Usia Dini. Jurnal Kajian Teori dan Praktik Kependidikan, Vol.36 halaman 1-82.
Susanto, A. 2011. Perkembangan Anak Usia Dini: Pengantar dalam Berbagai Aspeknya. Jakarta: Penerbit Kencana
Widyasari, F., E. 2016. Pembelajaran Bahasa Inggris dengan Menggunakan Metode Multiple Intelligences: Studi Kasus di Sekolah Internasional. Jurnal Edutama, Vol. 3 (1) Januari 2016.
DOI:
https://doi.org/10.21107/pgpaudtrunojoyo.v4i2.3575
Refbacks
There are currently no refbacks.
Copyright (c) 2018 Andini Dwi Arumsari, Bustomi Arifin, Zulidyana Dwi Rusnalasari

This work is licensed under a
Creative Commons Attribution 4.0 International License
.
Diterbitkan oleh: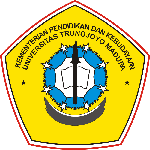 Program Studi Pendidikan Guru Pendidikan Anak Usia Dini, Fakultas Ilmu Pendidikan
Universitas Trunojoyo Madura.
Jl. Raya Telang PO BOX 2 Kamal, Bangkalan, Jawa Timur 69162
Telp. (031)3014239/ Fax. (031)3011506