Meningkatkan Kreativitas Anak Melalui Kegiatan Bermain Warna (Penelitian Tindakan Kelas pada Anak Kelompok B di RA Muslimat NU 107 Khodijah Kramat Duduksampeyan)
Abstract
Children not need social emotional, language, motoric, moral development but alsoneed creativity development. Creativity is  ability to produce something new. This study aims to determine creativity development between playing (with coconut pulp). . This research is done by collecting data from various ways that is observation, interview, documentation. The result of this study can be conclude that in RA Muslimat NU 107 Duduk Sampeyan improvement when using playing with coconut pulp. From the results of this study, it can be appealed to early childhood educators to apply byplaying coconut pulp to improve the creativity of children.
Keywords
Language, Flash Card, Early Childhood
References
Euis Kurniati & Yeni Rachmawati. 2010. Strategi Pengembangan Kreativitas pada Anak Usia Dini. Jakarta: Kencana Prenada Media Group
Fadlillah. 2013. Desain Pembelajaran PAUD. Jogyakarta: Ar-Ruzz Media.
Santrock. 2007. Perkembangan Anak. Erlangga: Gelora Aksara Pratama. Hlm. 343
KBBI. 1990. Kamus Besar Bahasa Indonesia. Jakarta: Depdiknas.
Mulyasa. 2014. Manajemen Paud. Bandung: PT. Remaja Rosdakarya
Martuti. 2008. Mengelola PAUD. Yogyakarta: Kreasi Warna.
Muslich. 2009. Melaksanakan PTK (Penelitian Tindakan Kelas). Jakarta: Pustaka Jaya. Hlm. 8
Peraturan Menteri Pendidikan dan Kebudayaan. 2014. Standar Tingkat Pencapaian Perkembangan Anak (STPPA). No. 146
Slamet Suyanto. 2015. Dasar-dasar Pendidikan Anak Usia Din. Yogyakarta: Hikayat Publishing.
Sumanto. 2005. Pengembangan Kreativitas Seni Rupa Anak TK. Jakarta: Departemen Pendidikan Nasional Direktorat Jenderal Pendidikan Tinggi.
Suratno. 2005. Pengembangan Kreativitas Anak Usia Dini. Jakarta: Departemen Pendidikan Nasional, Direktorat Jenderal Pendidikan Tinggi, Direktorat Pendidikan Tenaga Kependidikan dan Ketenagaan Perguruan Tinggi.
Suyadi. 2013. Konsep Dasar Paud. Bandung : Rosdakarya
Utami Munandar. 1999. Pengembangan Kreativitas Anak Berbakat. Jakarta Grasindo
DOI:
https://doi.org/10.21107/pgpaudtrunojoyo.v4i1.3569
Refbacks
There are currently no refbacks.
Copyright (c) 2018 Dwi Nurhayati Adhani, Nina Hanifah, Imro'atun Hasanah

This work is licensed under a
Creative Commons Attribution 4.0 International License
.
Diterbitkan oleh: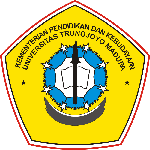 Program Studi Pendidikan Guru Pendidikan Anak Usia Dini, Fakultas Ilmu Pendidikan
Universitas Trunojoyo Madura.
Jl. Raya Telang PO BOX 2 Kamal, Bangkalan, Jawa Timur 69162
Telp. (031)3014239/ Fax. (031)3011506