Meningkatkan Kemampuan Membaca Permulaan Melalui Kegiatan Mendongeng dengan Variasi Media di KB PAUD PKK Wonojoyo Kediri
Abstract
This study aims to improve the ability to read the beginning through the activities of storytelling with media variations and know the process of improving the ability to read the beginning through the storytelling activities with media variations. The research method used is action research with Kemmis and Taggart model. Research subjects were 16 KB children. This study was conducted in two cycles consisting of eight meetings in a cycle so that there were sixteen meetings. Technique of collecting data is done through observation, interview, and documentation. Data analysis technique used in this research is qualitative and quantitative data analysis. Qualitative data analysis used is data reduction, data display, and verification. Quantitative data analysis is used to find out the percentage of reading ability improvement after the beginning of the implementation of the action using the graph. The result of the research shows that the improvement of the understanding of children's geometry can be seen from the average prasiklus value of 58, the average of cycle I average 77, and cycle II with an average of 90. So it can be concluded that the activities of storytelling with media variations can improve the ability to read the beginning
Keywords
early reading ability, storytelling, media variation
References
Aisyah, Siti. Mengembangkan Karakter Anak Usia Dini Melalui Kegiatan Bercerita. sitia@mail.ut.ac.id. Diakses online pada tanggal 28 Februari 2011
Chulsum, Umi dan Windy Novia. 2006. Kamus Besar Bahasa Indonesia. Surabaya : Kashiko.
Harini, Sri dan Aba Firdaus Al-Halwani. 2003. Mendidik Anak Sejak Dini. Yogyakarta : Kreasi Wacana.
Latif, Muhammad Abdul. 2009. The Power Of Story Telling : Kekuatan Dongeng terhadap Pembentukan Karakter Anak. Depok : PT. Luxima Metro Media.
Miller, Jamie C. 2003. Mengasah Kecerdasan Moral Anak Melalui Permainan 10 Menit. Terjemahan oleh Lovely. Bandung : Kaifa.
Montolalu, B. E. F., dkk. 2005. Materi Pokok Bermain dan Permainan Anak. Jakarta : Universitas Terbuka
Nur'aini, Farida. 2010. Membentuk Karakter Anak dengan Dongeng. Surakarta : Indiparent.
R., Moeslichatoen, 1999. Metode Pengajaran Di Taman Kanak-kanak. Jakarta : Rineka Cipta.
Sari, Putri Arum. 2010. Dongeng Inspiratif untuk Anak Cerdas. Yogyakarta : Immortal Publisher.
Sukmadinata, Nana Syaodih. 2009. Metode Penelitian Pendidikan. Bandung : PT. Remaja Rosdakarya.
.2008. Membentuk Moral Anak. http://lifestyle.okezone.com. Diakses online pada tanggal 28 Februari 2011.
.2010. Membentuk Moral Anak Melalui Mendongeng. http://www.koran-jakarta.com. Diakses online pada tanggal 28 Februari 2011
DOI:
https://doi.org/10.21107/pgpaudtrunojoyo.v4i1.3564
Refbacks
There are currently no refbacks.
Copyright (c) 2018 Alfin Zainun Faiz

This work is licensed under a
Creative Commons Attribution 4.0 International License
.
Diterbitkan oleh: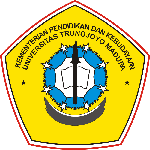 Program Studi Pendidikan Guru Pendidikan Anak Usia Dini, Fakultas Ilmu Pendidikan
Universitas Trunojoyo Madura.
Jl. Raya Telang PO BOX 2 Kamal, Bangkalan, Jawa Timur 69162
Telp. (031)3014239/ Fax. (031)3011506