Peran Keluarga dalam Memotivasi Anak Usia Dini dengan Metode Quantum Learning
Abstract
This study aims to determine how the role of parents when accompanying their children while studying at home and find out how the family can motivate children. In this study takes an object of early childhood to the age of about 3-6 years and parents who accompany.Methods used in this activity is the observation and interviews conducted in the village park, Sidoarjo. The results obtained are motivated child begins to increase when parents are able to give attention and learning quantum methods bring an atmosphere of fun for children as encourage learning outside.
Keywords
Family, Motivation, Learning Quantum Methods
References
BobbI, D & Mike, H. (2008). Quantum Learning: Membiasakan Belajar Nyaman dan Menyenangkan, terj. Alwiyah Abdurrahman. Bandung: Kaifa.
Bobby, D.; Mark, R.; & Sarah, S. N. (2010). Cet. Ke-1. Quantum Teaching: Mempraktikkan Quantum Learning di Ruang-Ruang Kelas. terj. Ary Nilandari. Bandung: Kaifa.
Karmawan, H. (2012). Peranan Keluarga Dalam Meningatkan Motivasi Belajar Siswa. Jurnal Tesis. Jurusan Sosiologi Universitas Tanjungpura.
Lestari, S. (2012). Psikologi Keluarga: Penanaman nilai dan penanganan konflik dalam keluarga. Jakarta: Prenada Media Group.
Mawardi & Nur, H. (2000). Ilmu Alamiah Dasar, Ilmu Sosial Dasar, Ilmu Budaya Dasar. Bandung: Pustaka Setia.
Purwanto, M. N. (2004). Psikologi Pendidikan. Bandung: Remaja Rosda Karya.
Santrock, J. W. (2007). Psikologi Pendidikan. Jakarta: Kencana.
Sugianto. (2010). Model-model Pembelajaran Inivatif. Surakata: PT. Yuma Pustaka.
Thoha, M. (2001). Perilaku Organisasi Konsep Dasar dan Aplikasinya. Jakarta: Rajawali Pers.
Goleman, D. (2004). Emitional Intelligence Kecerdasan Emosional Mengapa EQ Lebih Penting Pendidikan dari pada IQ. Jakarta: PT Gramedia Pustaka Utama.
Tabrani, R. (2001). Pendekatan dalam Proses Belajar Mengajar. Bandung: PT. Remaja Rosdakarya.
DOI:
https://doi.org/10.21107/pgpaudtrunojoyo.v1i2.3550
Refbacks
There are currently no refbacks.
Copyright (c) 2014 Dewi Mayangsari, Vitrotul Umroh

This work is licensed under a
Creative Commons Attribution 4.0 International License
.
Diterbitkan oleh: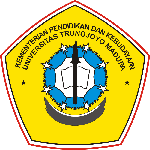 Program Studi Pendidikan Guru Pendidikan Anak Usia Dini, Fakultas Ilmu Pendidikan
Universitas Trunojoyo Madura.
Jl. Raya Telang PO BOX 2 Kamal, Bangkalan, Jawa Timur 69162
Telp. (031)3014239/ Fax. (031)3011506