PENERAPAN METODE TPR (Total Physical Response) DALAM PEMBELAJARAN BAHASA INGGRIS PADA PAUD
Abstract
Application of TPR Method in Learning in Early Childhood. In English language teaching in early childhood education, teachers should be selective and creative in choosing teaching methods, so that students remain happy in their learning. TPR method is one appropriate method to teach English in early childhood, where learning priority to activities directly related to the physical and movement. Research aims to describe the implementation steps TPR method performed by the teacher in learning English in kindergarten Nurul Hikmah Pamekasan, determine the application of TPR method and evaluate the response of children after implementation. form of qualitative descriptive study, data collection techniques using observation, interview and documentation. Research results obtained by the three stages of English language teaching and learning activities undertaken by teachers in the classroom, the initial activity, the core and the cover. In the first observation of the students become more active and interested in learning the English language on its core activities, while the second observation results contained in the core activities and cover, children not only know and understand the material that dibahasoleh teacher in the classroom, but they also can practice outside of school. Response resulting from the application of TPR method is children can learn english with a sense of fun, enjoy, do not feel tired, easy to understand and easy to remember and apply it in everyday life.
References
Donaldson, O. (1998). Teaching Strategies. Boston : Houghton Miffin Company.
Freeman, D., L. (1986). Techniques and Principles in Language Teaching, Oxford: Oxford University Press.
Hapidin. (2006). Model-Model Pendidikian Untuk Anak Usia Dini. Jakarta: Ghiyats Alfiani Press
Mustafa, C. (2007). Perkenalkan Bahasa Inggris Pada Anak Sejak Dini.Jakarta:Bumi Aksara.
Richards, J., C; & Theodore S., R. (2003). Approaches and Methods in Language Teaching, New York: Cambridge University Press.
Setiyadi, B. (2006). Teaching English as Foreign Language, Yogyakarta: Graha Ilmu
Suharsimi, A. (2000). Manajement Penelitian. Jakarta: PT. Rineka Cipta.
DOI:
https://doi.org/10.21107/pgpaudtrunojoyo.v2i1.1816
Refbacks
There are currently no refbacks.
Copyright (c) 2016 S Ummah

This work is licensed under a
Creative Commons Attribution 4.0 International License
.
Diterbitkan oleh: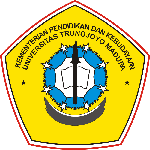 Program Studi Pendidikan Guru Pendidikan Anak Usia Dini, Fakultas Ilmu Pendidikan
Universitas Trunojoyo Madura.
Jl. Raya Telang PO BOX 2 Kamal, Bangkalan, Jawa Timur 69162
Telp. (031)3014239/ Fax. (031)3011506