Model Kepemimpinan Kepala Taman Kanak-Kanak pada Masyarakat Pandhalungan Kabupaten Jember
Abstract
Qualified kindergarten principals have different leadership models. Urban and rural areas with varying characters, cultural models, and speed of information influence the principal's leadership model in kindergarten. This study aims to determine the Leadership Model of Kindergarten Principals in the Pandahalungan community in urban and suburban Jember districts. Descriptive qualitative approach method combined with interview data collection techniques, observation, and documentation. Data analysis used partial interpretation, overall interpretation, and meaning. The research subjects involved in this study were principals and teachers of kindergarten institutions in urban and suburban areas. The results of applying the principal's leadership model, in kindergarten institutions in the Pandhalungan community in urban areas, principals use the transformational leadership model, and the suburban area leadership model mostly still uses the Transactional leadership model. Suggestions given by school principals to kindergarten institutions in the Pandhalungan community can take positive values in each leadership model adjusted to social, economic, cultural, and environmental factors.
Keywords
Model of Leadership; Principal of Kindergarten; Pandhalungan Comunity
References
Anwar, R.N & Alisa Alfina. (2019). Kepemimpinan Kepala Sekolah Dalam Pengembangan Profesionalisme Guru Di TK IT Nur Al Izhar Kebonsari. Prosiding Conference on Research and Community Services. 51-56
Arrinovia, Z. I. (2021). Nilai-Nilai Multikultural dalam Kebudayaan Pendalungan di Kabupaten Jember. Al Ma' Arief: Jurnal Pendidikan Sosial Dan Budaya, 3(2), 66-84. https://doi.org/10.35905/almaarief.v3i2
Asiah, N. & A. Isnaeni. (2018). Inklinasi Masyarakat Muslim Kelas Menengah Terhadap Sekolah Dasar Islam Terpadu Di Bandar Lampung. Al-Tadzkiyyah: Jurnal Pendidikan Islam, 9 (2), 291-309. https://doi.org/10.24042/atjpi.v9i2.3452
Awae, M. H. (2017). Model Kepemimpinan Kepala Sekolah di Sekolah Siritham Wittaya Naratiwat Selatan Thailand. Skripsi. Universitas Islam Negeri Walisongo.
Baharun, H. (2017). Total Moral Quality: A New Approach for Character Education in Pesantren. Ulumuna, 21(1), 57–80. https://doi.org/10.20414/ujis.v21i1.1167
Danim, S. (2010). Kepemimpinan Pendidikan: Kepemimpinan Jenius (IQ + EQ), Etika, Perilaku Motivasional, dan Mitos. Alfabeta.
Fadilah, L & Hamami, T. (2021). Kepemimpinan Trasformasional dalam Pendidikan Islam. Edukatif: Jurnal Ilmu Pendidikan, 3(6), 4186-4197. https://doi.org/10.31004/edukatif.v3i6.1381.
Huggins, K. S. 2017. Developing Leadership Capacity in Others: An Examination of High School Principals' Personal Capacities for Fostering Leadership. International Journal of Education Policy & Leadership, 12(1), 1-15. https://doi.org/10.22230/ijepl.2017v12n1a670.
Indrawati, K & Azwar, H. (2019). Gaya Kepemimpinan Kepala Yayasan Dalam Meningkatkan Kinerja Guru TK Nur Iman Palembang. Tadbir: Jurnal Studi Manajemen Pendidikan, 3 (2), 179-186. http://dx.doi.org/10.29240/jsmp.v3i2.1063.
Julaiha, S. (2019). Konsep Kepemimpinan Kepala Sekolah. Tarbiyah Wa Ta''lim: Jurnal Penelitian Pendidikan & Pembelajaran, 6 (3), 51-62. https://doi.org/10.21093/twt.v6i3.1734.
Librianty, N. (2019). Studi Tentang Peran Kepemimpinan Kepala PAUD. Aulad: Journal on Early Childhood, 2(1), 8-16. https://doi.org/10.31004/aulad.v2i1.11.
Mahmudah, D. (2015). Komunikasi, Gaya Kepemimpinan, dan Motivasi dalam Organisasi. Jurnal Studi Komunikasi dan Media, 19(2), 285-302. https://doi.org/10.31445/jskm.2015.190210.
Maharani, D. (2015). Pengaruh Perilaku Kepemimpinan Kepala Sekolah dan Motiasi Kerja Terhadap Kinerja Mengajar Guru TK. Jurnal Administrasi Pendidikan, 22 (1), 102-113.https://ejournal.upi.edu/index.php/JAPSPs/article/view/5924.
Mahardhani, A.J. (2015). Kepemimpinan Ideal Kepala Sekolah. Jurnal Dimensi Pendidikan dan Pembelajaran. 3 (02), 1-4. https://doi.org/10.24269/dpp.v3i2.82.
Mapiare, A. (2013). Tipe-tipe Metode Riset Kualitatif Untuk Eksplanasi Sosial Budaya Dan Bimbingan Konseling. Skripsi. Universitas Negeri Malang.
Mbeu, L. O. M & Anwar. (2011). Pengembangan Model Kepemimpinan Kepala Sekolah yang Efektif. Jurnal Pendidikan dan Kebudayaan, 17(2), 215-224. https://doi.org/10.24832/jpnk.v17i2.19 .
Moleong, L. J. (2013). Metode Penelitian Kualitatif. PT. Remaja Rosdakarya.
Pramono, E. dkk. (2022). Pengaruh Kepemimpinan Transformasional Dan Efikasi Diri Terhadap Keinovatifan Guru Di Provinsi Banten. Jurnal Muara Ilmu Ekonomi dan Bisnis, 6(2), 432-444. https://doi.org/10.24912/jmieb.v6i2.22098
Sari, Z. I. P. (2014). Peran kepemimpinan kepala TK laki-laki dalam meningkatkan kinerja guru (studi kasus di TK Kartika IV-28 Tulungagung). Skripsi. Universitas Negeri Malang.
Sarosa, S. (2012). Penelitian Kualitatif Dasar-dasar. Indeks.
Senny, M.H, Lany, W., & Mozes, K. (2018). Penerapan Gaya Kepemimpinan Tranformasional dalam Manajemen PAUD di Kecamatan Sidorejo Salatiga. Scholaria: Jurnal Pendidikan dan Kebudayaan, 8 (2), 197-209. https://doi.org/10.24246/j.js.2018.v8.i2.p197-209.
Sholeh, M. (2016). Keefektifan Peran Kepala Sekolah Dalam Meningkatkan Kinerja Guru. Jurnal Dinamika Manajemen Pendidikan, 1 (2), 41-54. https://doi.org/10.26740/jdmp.v1n1.p41-54.
Sobian, P. (2022). Pemimpin dan Kepemimpinan. Penerbit Lakeisha.
Suparti, T. (2021). Pengaruh Kompetensi Profesional dan Pedagogik Terhadap Kinerja Guru. Jurnal PG-PAUD Trunojoyo: Jurnal Pendidikan dan Pembelajaran Anak Usia Dini, 8(2), 46-55. https://doi.org/10.21107/pgpaudtrunojoyo.v8i2.11735.
Sutarto, A. (2006). Sekilas Tentang Masyarakat Pandalungan, Makalah disampaikan pada acara pembekalan Jelajah Budaya. 7 – 10 Agustus.
Usman, H. (2015). Model Kepemimpinan Instruksional Kepala Sekolah. Jurnal Cakrawala Pendidikan: Jurnal Ilmiah Pendidikan, XXXIV(3), 322-333. https://doi.org/10.21831/cp.v3i3.7338.
Wen, G. (2022). Pengaruh Kepemimpinan Transformasional dan Transaksional Terhadap Motivasi Kerja dan Prestasi Kerja Pejabat Struktural Dinas Pendidikan Kabupaten Mappi. Jurnal Ilmu Hukum Humaniora dan Politik, 2(1), 51-57. https://doi.org/10.38035/jihhp.v2i1.857.
Widiastuti, R. Y. (2021) Kepemimpinan Kepala Taman Kanak-kanak dalam Peningkatan Kualitas Pendidikan. Jurnal Asghar, 1 (1), 22-29. https://doi.org/10.28918/asghar.v1i1.4174.
Yavuz, O. (2016). Educational Leadership and Comprehensive Reform for Improving Equity and Access for All. Interational Jurnal Education Policy & Leadership, 11(10), 1-21. https://files.eric.ed.gov/fulltext/EJ1138289.pdf .
Yusuf, A. M. (2014). Metode Penelitian Kuantitatif, Kualitatif & Penelitian Gabungan. Kencana
DOI:
https://doi.org/10.21107/pgpaudtrunojoyo.v10i1.17525
Refbacks
There are currently no refbacks.
Copyright (c) 2023 Reski Yulina Widiastuti, Aisyah Nur Atika, Laily Nur Aisiyah, Muhammad Haidlorh

This work is licensed under a
Creative Commons Attribution 4.0 International License
.
Diterbitkan oleh: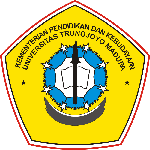 Program Studi Pendidikan Guru Pendidikan Anak Usia Dini, Fakultas Ilmu Pendidikan
Universitas Trunojoyo Madura.
Jl. Raya Telang PO BOX 2 Kamal, Bangkalan, Jawa Timur 69162
Telp. (031)3014239/ Fax. (031)3011506