Pengembangan Media Pembelajaran Smart Board Berbasis Augmented Reality Untuk Pengenalan Hewan Pada Anak Usia Dini
Abstract
Kemampuan kognitif merupakan kemampuan yang memiliki proses diawali dari pola pikir individu yang akan menjalankan proses hingga pada kegiatan psikis atau mental. Masih ada beberapa anak yang belum mampu untuk memahami secara baik dalam mengenal hewan-hewan hanya melalui gambar yang ada di poster saja. Pengenalan hewan pada anak usia dini dapat membantu meningkatkan perkembangan kognitif yang menjadi salah satu penentu kesuksesan anak di masa yang akan datang. Adapun tujuan penelitian ini yaitu (1) untuk mengetahui tingkat kelayakan media pembelajaran smart board berbasis augmented reality untuk pengenalan hewan pada anak usia dini; dan (2) mengetahui pengaruh media pembelajaran smart board berbasis augmented reality untuk pengenalan hewan pada anak usia dini. Penelitian ini menggunakan metode penelitian dan pengembangan (R&D), dengan menggunakan prosedur penelitian model pengembangan ADDIE. Teknik pengumpulan data dalam penelitian ini adalah angket validasi yang diberikan kepada validator, guru, dan peserta didik. Selanjutnya peneliti melakukan wawancara dan dokumentasi untuk memperjelas hasil penelitian. Adapun uji kelayakan pada produk sebesar 77,17% dimana sudah masuk dalam kategori layak untuk diuji cobakan pada kelompok kecil. Hasil uji coba yang dilakukan adalah sebesar 85,6%, artinya produk media pembelajaran layak untuk digunakan dala proses pembelajaran pengenalan hewan pada anak usia dini di PAUD Ummul Habibah Klambir V. Maka media pembelajaran smart board berbasis augmented reality sangat efektif dan berpengaruh untuk meningkatkan kognitif anak usia dini terutama pada pengenalan hewan.
Keywords
Augmented reality; Anak usia dini; Pengenalan hewan
References
Adami, Feby Zulham & Cahyani Budihartanti. (2016). Penerapan Teknologi Augmented Reality Pada Media Pembelajaran Sistem Pencernaan Berbasis Android. JURNAL TEKNIK KOMPUTER AMIK BSI, 2 (1), 123 – 131.
Atmajaya, Dedy. (2017). Implementasi Augmented Reality Untuk Pembelajaran Interaktif. Jurnal Ilmiah , 9(2), 227-232.
Ardy, Novan. (2016). Konsep Dasar PAUD. Yogyakarta: Gava Media.
Arsyad, Azhar. (2013). Media Pembelajaran. Jakarta: Rajawali Pers
Azhar Arsyad. (2011). Media Pembelajaran. Jakarta: Raja Grafindo Persada
Kemendikbud. (2014). Konsep Dasar Pendidikan Anak Usia Dini. Jakarta: Kemendikbud.
Mustaqim, Ilmawan. (2016). "Pemanfaatan Augmented Reality Sebagai Media Pembelajaran" dalam Jurnal Pendidikan Teknologi Kejuruan, 13(2), 174-183.
Nufus, Hayatun, dkk. (2019). "Augmented Reality Sebagai Alat pengenalan Hewan untuk Anak Usia Dini Menggunakan Metode Markerless" dalam Jurnal Teknologi Rekayasa Informasi dan Komputer,3(1), 37-42.
Ossy D.E.W., TM Zaini, Boby Bahri. (2013). Teknologi Augmented Reality. Jurnal Informatika, 13(1), 169-179.
Patkar, R.S., Singh, S.P., & Birje, S.V. (2013). Marker Based Augmented Reality Using Android OS. [Online] International Journal of Advanced Research in Computer Science and Software Engineering, 3(5), 64-69.
Rayandra Asyhar. (2012). Kreatif Mengembangkan Media Pembelajaran. Jakarta: Referensi.
Rosyad, Prima. (2014). Pengenalan Hewan Augmented Reality berbasis Android. Surakarta: Universitas Muhamadiyah Surakarta.
Santrock, John. (2007). Perkembangan Anak. Jakarta: Erlangga.
Sugiyono. (2012). Metode Penelitian Kuantitatif, Kualitatif, dan R&D. Bandung: Alfabeta.
DOI:
https://doi.org/10.21107/pgpaudtrunojoyo.v9i1.13418
Refbacks
There are currently no refbacks.
Copyright (c) 2022 Ristra Sandra Ritonga, Zulfahmi Syahputra, Daud Arifin, Intan Maya Sari

This work is licensed under a
Creative Commons Attribution 4.0 International License
.
Diterbitkan oleh: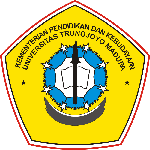 Program Studi Pendidikan Guru Pendidikan Anak Usia Dini, Fakultas Ilmu Pendidikan
Universitas Trunojoyo Madura.
Jl. Raya Telang PO BOX 2 Kamal, Bangkalan, Jawa Timur 69162
Telp. (031)3014239/ Fax. (031)3011506