Praktik Spasialisasi Dalam Industri Line Corporation: Trend Financial Technology
Abstract
LINE Corporation is one of communication media that initially focused on instant messaging features and news aggregator. However, the development of information and communication technology have changed. This research is a qualitative research with a case study method. This research is focus on the development of new media industry, namely LINE Corporation and financial technology. Through the analysis of the political economy of the media, the trend of financial technology revealed to have spatialization practices that dominate the geography of Asia, especially in Indonesia, Korea, Japan, Thailand and Taiwan. The three main classifications found are; products and services, affiliates and financial technology. In the last 3 years, financial technology become the most promising business industry strategy. This is the impact of cooperation with capital companies that are able to dominate the market. LINE is getting closer to realizing a digital ecosystem in Indonesia by implementing their tagline "closing the distance", there is no longer unfavorable distance and time for this industry.
 Keywords: Spatialization, Political Economy Media, LINE Corporation, Financial Technology, New Media
References
Adila, I. (2011). Spasialisasi Dalam Ekonomi Politik Komunikasi (Studi Kasus MRA Media). Jurnal Ilmu Komunikasi, 1(1), 93–108.
Cindy Mutia Annur. (2022, 15 Juni ). Jumlah Pengguna Aktif Bulanan Aplikasi Line (2014-2021). Diakses pada 29 Agustus 2022 dari https://databoks.katadata.co.id/datapublish/2022/06/15/rekor-lagi-pengguna-aktif-line-tembus-178-juta-pada-2021
Finansialku.com. (2018, 4 Februari). Kisah Sukses Lee Hae Jin, Pendiri Aplikasi LINE, diakses pada 20 Maret 2022 dari https://www.finansialku.com/kisah-sukses-lee-hae-jin-pendiri-aplikasi-Line/
Golding, P., & Murdock, G. (1997). The political economy of the media (Vol. 2). Elgar Cheltenham.
Hidayati, L. F., & Kom, Y. P. A. (2021). SPASIALISASI DALAM INDUSTRI KOMIK DIGITAL: INTEGRASI HORIZONTAL DAN VERTIKAL DALAM LINE WEBTOON.
Kompas.com (2021, 10 Juni), Line Resmi Luncurkan Bank Digital di Indonesia. diakses pada 31 Agustus 2022 dari https://tekno.kompas.com/read/2021/06/10/12373337/line-resmi-luncurkan-bank-digital-di-indonesia?page=2
Kompas.com. (2022, 14 Juni). Line Today Ditutup di Indonesia, Bagaimana Nasib Line Messenger? diakses pada 31 Agustus 2022 dari https://tekno.kompas.com/read/2022/06/14/15000027/line-today-ditutup-di-indonesia-bagaimana-nasib-line-messenger-?lgn_method=google
Lefebvre, H. (1979). Space: social product and use value. Critical Sociology: European Perspectives, 285, 295.
Linebank.co.id (2022), About Hana Bank Indonesia, diakses pada 29 April 2022 dari https://linebank.co.id/en/about-hana-bank
Linecorp.com (2022), About LINE Corporation, diakses pada 30 April 2022 dari https://linecorp.com/en/company/info
Lineman.line.me (2022), About LINE MAN, diakses pada 29 Agustus 2022 dari https://lineman.line.me/,
Line.worksmobile.com (2022), About LINE Works, diakses pada 29 April 2022 dari https://line.worksmobile.com/jp/en/
McQuail, D. (2012). Teori-Teori Komunikasi Massa. Jakarta: Erlangga.
Mosco, V. (2009). The political economy of communication. The Political Economy of Communication, 1–280.
Nasyaya, M., & Adila, I. (2019). Diversifikasi Dan Kolonialisasi Data pada Line Social Messaging. Jurnal Komunika: Jurnal Komunikasi, Media Dan Informatika, 8(2), 96–104.
Novina Putri Bestari (2022, 7 Juli). Resmi Tutup, Ini Chat Terakhir dari Line Today. Diakses pada 29 Agustus 2022 dari https://www.cnbcindonesia.com/tech/20220707105751-37-353644/resmi-tutup-ini-chat-terakhir-dari-line-today
Otoritas Jasa Keuangan (2021),Yuk Mengenal Fintech! Keuangan Digital yang tengah Naik Daun, diakses pada 30 April 2022 dari https://sikapiuangmu.ojk.go.id/FrontEnd/CMS/Article/10468
Subandi, Z. E., & Sadono, T. P. (2018). Komodifikasi, spasialisasi, dan strukturasi dalam media baru di Indonesia (Ekonomi politik komunikasi Vincent Mosco pada Line Webtoon). National Conference of Creative Industry.
Zulfiningrum, R. (2014). Spasialisasi dan Praktik Konglomerasi Media Kelompok Kompas Gramedia. Jurnal Aspikom, 2(3), 140–153.
DOI:
https://doi.org/10.21107/jscl.v1i1.19741
Refbacks
There are currently no refbacks.
FLAG COUNTER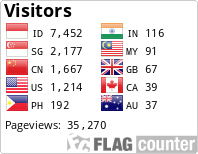 STATCOUNTER

Journal of Social, Culture, and Language
Jl. Raya Telang, Telang, Kecamatan Kamal, Kabupaten Bangkalan, Provinsi Jawa Timur 69162
Handphone: +6281356287310
E-mail: jscl@trunojoyo.ac.id