The Phenomenon of Diglossia Usage by Adolescents In The District of Sampang, Madura
Abstract
This research is conducted in order to find the phenomenon of diglossia usage by adolescents in the district of Sampang, Madura. Descriptive qualitative method is used in this research to get the information about the phenomenon of diglossia usage by using sociolinguistics perspective. Data were taken from the field area in Sampang, Madura, Indonesia. Data got from the people in Sampang Madura from different level of people to know the phenomenon of diglossia. Data got from formal and informal situation in order to know the using of high variety phenomenon and also low variety phenomenon. The result of the study showed that the use of various variants of the Madurese language by adolescents in Sampang Madura can be classified based on the context of a formal situation (religious or government activity) or informal (friendship activity) as well as with whom a conversation is carried out.  Each level also has various purposes and functions, such as for good impression, politeness and respect in the High variety or personal closeness and intimacy in the Low variety.
Keywords: Diglossia, High Variety, Low Variety, and Sampang
References
Chalimatus, S., & Fathur, R. (2018). Diglossia of Javanese-Indonesia in Senior High School Educational Domain: Sociolinguistics Study in Tegal Regency. Seloka: Journal of Language Education and Indonesian Literature, 7 (1), 9-17.
https://journal.unnes.ac.id/sju/index.php/seloka/article/view/22621/10717
Shofyah Wildatis Naila (2021) The Use of Diglossia in Sumenep Regency, Madura ELTICS (ENGLISH LANGUAGE TEACHING AND ENGLISH LINGUISTICS) JOURNAL Vol.6, No.2, July 2021, pp. 22-32
Refbacks
There are currently no refbacks.
FLAG COUNTER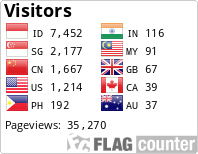 STATCOUNTER

Journal of Social, Culture, and Language
Jl. Raya Telang, Telang, Kecamatan Kamal, Kabupaten Bangkalan, Provinsi Jawa Timur 69162
Handphone: +6281356287310
E-mail: jscl@trunojoyo.ac.id