Journal Simantec is a scientific journal under the Department of Informatics Engineering, Faculty of Engineering, University of Trunojoyo Madura. Jurnal Simantec will publish twice a year. The first edition was published in December 2009. This journal contains scientific articles, such as science, Informatics, information systems, multimedia, mechatronics, computer networking, and other result studies related to these fields.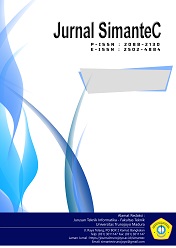 Announcements
Call For Paper

Jurnal Simantec
Posted: 2022-01-19
More...

Change of website URL

Since 1st of February 2019, the official website of Jurnal Simantec will be moved to http://www.simantec.jurnaltrunojoyo.org
Posted: 2019-01-25
More...
Vol 11, No 2 (2023): Jurnal Simantec Juni 2023
Table of Contents
| | | |
| --- | --- | --- |
| | Millenialdo Yanuar Ilham, Resty Wulanningrum, Intan Nur Farida, Made Ayu Dunia Widyadara | 139-146 |
| | | |
| --- | --- | --- |
| | Erwin Prasetyowati, Imron Rosyadi NR, Sholeh Rachmatullah | 147-156 |
| | | |
| --- | --- | --- |
| | Rahmat Irsyada, Hastie Audytra | 157-166 |
| | | |
| --- | --- | --- |
| | Brikitha Olivia Putri Irine Irawan, Muhlis Tahir, Nimas Ayu Windrastuti, Delsa Yurina Cholili, Dina Mulaikah, Ahmad Batsul Mushofi Septian Wachid | 167-174 |
| | | |
| --- | --- | --- |
| | Yessy Yee Nur, Arief Hermawan | 175-184 |
| | | |
| --- | --- | --- |
| | Nabilatur Rahma, Yusuf Amrozi, Nur Diana Fahma Salsabila, M.Hanif Miqdad G | 185-190 |
| | | |
| --- | --- | --- |
| | Hendro Nugroho, Andy Rachman, Erfan Septian Basuki | 191-198 |
| | | |
| --- | --- | --- |
| | Andrean Ferdyana Vabian Eka Sakti, Resty Wulanningrum, Wahyu Cahyo Utomo, Roni Heri Irawan | 199-204 |
| | | |
| --- | --- | --- |
| | Siti Sufaidah, Annisa' Khoirul Bariyyah | 205-214 |
| | | |
| --- | --- | --- |
| | Yudha Dwi Putra Negara, Shofia Hardi, Farhan Reynaldi Valerian, Doni Abdul Fatah, Budi Soesilo | 215-222 |
| | | |
| --- | --- | --- |
| | Rizal Putra Aditya, Fahrullah Fahrullah, Nariza Wanti Wulan Sari | 223-230 |
| | | |
| --- | --- | --- |
| | Dimas Permana, Joko Sutopo | 231-240 |
| | | |
| --- | --- | --- |
| | Kuniawan Eka Permana, Mochammad Kautsar Sophan, Arif Muntasa, Abdullah Basuki Rahmat | 241-249 |