Analisis Aktivitas Pendidikan di TK Laboratorium Aichi Jepang Berdasarkan Prinsip-prinsip Neurosains
Abstract
Penelitian ini bertujuan untuk melihat bagaimana metode bermain bebas yang dilakukan di TK jepang. Selain itu penelitian ini juga untuk melihat apakah aktivitas pendidikan di TK Jepang sesuai dengan prinsip-prinsip neurosains. Penelitian dilakukan dengan menggunakan metode observasi kualitatif yang bersifat naturalistik. Peneliti mengobservasi aktivitas siswa-siswa kelas TK B di TK laboraturium Aichi University of Education selama satu hari, dari jam 09.00 sampai jam 14.00 JST. Hasil penelitian menunjukkan bahwa aktivitas di TK tersebut sangat seusai dengan 8 prinsip neurosains.
Keywords
bermain bebas, TK Jepang, prinsip-prinsip neurosains, observasi naturalistic
References
Ariyanti, Tatik (2016). Pentingnya Pendidikan Anak Usia Dini Bagi Tumbuh Kembang Anak. JURNAL DINAMIKA PENDIDIKAN DASAR VOLUME 8, NO 1, Maret 2016 : 50 – 5.
Hayashi, Akiko (2011). The Japanese Hands-off Approach to Curriculum Guidelines for Early Childhood Education as a For of Cultural Practice. Asia-Pacivic Journal of Research. Vol. 5, No. 2, pp. 107-123.
Hunter, Joshua at al., (2017). Adult Perspectives on Structured vs. Unstructured Play in Early Childhood Environmental Education. International Journal of Early Childhood Environmental Education Copyright © North American Association for Environmental Education ISSN: 2331-0464 (online).
INBRIEF SERIES. The Science of Early Childhood. www.developingchild.harvard.edu
Insiyah, Ma'fiyatun (2019). Bermain Bebas untuk Optimalisasi Perkembangan Kognitif Anak Usia Dini di TK Omah Dolanan YWKA Yogyakarta. Indonesian Journal of Islamic Early Childhood Education P-ISSN: 2541-2418; E-ISSN: 2541-2434 Ijiece, Vol. 4, No. 1, June 2019 (19-18).
Istiyana, Yuyun (2014). Konsep-konsep Dasar Anak Usia Dini. Didaktika, Vol. 20 No. 2 Februari 2014
Nur, Hifizah (2013). Curriculum Development Research of Indonesian Kindergarten Based on the Perspective of "Playing with Nature" Unit from Living Environmental Studies in Japan. Thesis of Aichi University of Education.
Ministry of Education, Culture, Sports, Science and Technology (2008). Course of study for Kindergarten. http://www.mext.go.jp/component/english/__icsFiles/afieldfile/2011/04/07/1303755_002.pdf
Golstein, Jeffery (2012). Play in Chidren's Development, Health and Well-being. TIE PDF.
Gowrie SA research summary (2015). Brain Development. www.ipsplibrary.net.auPinel, John PJ. 2012. Biopsikologi Edisi 7. Yogyakarta: Pustaka Pelajar.
Guo, Karen (2017). Values, Risks, and the Shaping of Kindergarten Rules in Japan. Asia-Pacific Journal of Research. Vol.11, No.2, pp.45-46
Hermidan, M.J., dkk (2014). Cognitive neuroscience, developmental psychology, and education: Interdisciplinary development of an intervention for low socioeconomic status kindergarten children. ScienceDirect. Elsevier.
Wang, Sam & Aamodt, Sandra (2012). Play, Stress, and the Learning Brain. NCBI Journal Cerebrum. 2012 Sep-Oct; 2012: 12. Published online 2012 Sep 24.
Qudsyi, Hazhira (2010). Optimalisasi Pendidikan Anak Usia Dini Melalui Pembelajaran Yang Berbasis Perkembangan Otak. Buletin Psikologi Fakultas Psikologi Universitas Gajah Mada. Volume 18, No. 2
Rushton, Stephen dkk (2009). Neuroscience, Play and Early Childhood Education: Connections, Implications and Assessment. Springer Science+Business Media, LLC 2009
Rusthon, Stephen (2011). Neuroscience, Early Childhood Education and Play: We are Doing it Right!. Springer Science+Business Media, LLC 2011.
Santrock, J. W., (2011). Life-Span Development. Edisi Bahasa Indonesia. Erlangga
Wikipedia (2019). Dodgeball Game. https://en.wikipedia.org/wiki/Dodgeball
DOI:
https://doi.org/10.21107/pgpaudtrunojoyo.v7i2.7803
Refbacks
There are currently no refbacks.
Copyright (c) 2020 Hifizah Nur

This work is licensed under a
Creative Commons Attribution 4.0 International License
.
Diterbitkan oleh: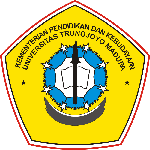 Program Studi Pendidikan Guru Pendidikan Anak Usia Dini, Fakultas Ilmu Pendidikan
Universitas Trunojoyo Madura.
Jl. Raya Telang PO BOX 2 Kamal, Bangkalan, Jawa Timur 69162
Telp. (031)3014239/ Fax. (031)3011506