Manajemen Strategi Pembelajaran dalam Membentuk 9 Pilar Karakter di Playgroup MILAS
Abstract
This study aims to analyze the learning strategies management in forming the 9 Pillars of character in the MILAS Playgroup Yogyakarta. The subjects of this study were the principal and educators. Data collection has done by observation and interview methods. After that, the data validity test was carrying out by means of triangulation. Then the data analysis technique has done by data reduction, data presentation, and conclusions or verification. The results showed that the 9 pillars of character through the learning strategies management learning strategies departing from vision and mission to evaluation. The learning strategies applied to create the 9 pillars of character in the MILAS playgroup are: (1) Love of God and the universe and its contents, (2) Responsibility, Discipline, and Independence, (3) Honesty, (4) Respect and Courtesy, (5) ) Compassion, Concern, and Cooperation, (6) Confidence, Creative, Hard Work, and Never Give Up, (7) Justice and Leadership, (8) Good and Humility, and (9) Tolerance, Peace Love, and Unity.
Keywords
Character; Strategy Management; Learning strategies
References
Akhwan, M. (2014). Pendidikan Karakter: Konsep dan Implementasinya Dalam Pembelajaran di Sekolah/Madrasah. El-Tarbawi, 7(1), 61–67.
Machali, Imam & Ara Hidayat. (2016). The Handbook of Education Management: Teori dan Praktik Pengelolaan Sekolah/ Madrasah di Indonesia. Jakarta: Kencana Prenada Media.
Kamaruddin, S. A. (2012). Character Edcation and Social Behavior. Journal of Education and Learning, 6(4), 223–230.
Kemendiknas. (2010). Rencana Aksi Nasional Pendidikan Karakter Kementerian Pendidikan Nasional 2010-2014. 1–8.
Leasa, M., & Batlolona, J. R. (2017). Full Day School Dalam Pembentukan Karakter Siswa SMKN 13 Kota Malang. Jurnal Ilmu Sosial Dan Humaniora, 6(1), 73–82.
Megawangi, R. (2009). Pengembangan Program Pendidikan Karakter di Sekolah: Pengalaman Sekolah Karakter. Prosiding Seminar Nasional Pendidikan Vokasional (SNPV), 1–8.
Pareira, M. I. R., & Atal, N. H. (2019). Peningkatan Kemandirian Anak Usia 4-5 Tahun Melalui Bercerita. Jurnal PG-PAUD Trunojoyo : Jurnal Pendidikan Dan Pembelajaran Anak Usia Dini, 6(1), 35–42.
Saripudin, A., & Faujiah, I. Y. (2018). Strategi Edutainment Dalam Pembelajaran di PAUD (Studi Kasus Pada TK di Kota Cirebon). AWLADY: Jurnal Pendidikan Anak, 4(1), 129–149.
Suratman, B., & Fitriani, L. (2019). Pendidikan Karakter Melalui Pembelajaran di KB Dewi Sartika Desa Batu MAK Jage Kabupaten Sambas. Jurnal PG-PAUD Trunojoyo : Jurnal Pendidikan Dan Pembelajaran Anak Usia Dini, 6(2), 91–100.
Suyadi. (2014). Teori Pembelajaran Anak Usia Dini dalam Kajian Neurosains. Bandung: PT Remaja Rosdakarya.
Wena, Made. (2016). Strategi Pembelajaran Inovatif Kontemporer: Suatu Tinjauan Konseptual Operasional. Jakarta: Bumi Aksara.
Yaswinda, M. S. (2019). Pengembangan Kemandirian Anak Usia 5-6 Tahun di TK Dharmawanita Tunas Harapan. Jurnal PG-PAUD Trunojoyo : Jurnal Pendidikan Dan Pembelajaran Anak Usia Dini, 6(2), 77–83.
Zulaikhah, S. (2019). Penguatan Pendidikan Karakter Melalui Pendidikan Agama Islam Di Smpn 3 Bandar Lampung. Al-Tadzkiyyah: Jurnal Pendidikan Islam, 10(1), 83–93.
DOI:
https://doi.org/10.21107/pgpaudtrunojoyo.v7i1.6833
Refbacks
There are currently no refbacks.
Copyright (c) 2020 Anaas Ridlo Yuliana, Aflaha Rara Wurinta

This work is licensed under a
Creative Commons Attribution 4.0 International License
.
Diterbitkan oleh: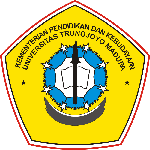 Program Studi Pendidikan Guru Pendidikan Anak Usia Dini, Fakultas Ilmu Pendidikan
Universitas Trunojoyo Madura.
Jl. Raya Telang PO BOX 2 Kamal, Bangkalan, Jawa Timur 69162
Telp. (031)3014239/ Fax. (031)3011506