Meningkatkan Kosakata Anak Usia Dini Melalui Permainan Chinese Whispers
Abstract
Vocabulary are words that someone has to socialize with other people. The process of acquiring a child's vocabulary can be influenced by external factors as well as from factors within the child itself. The topics contained in this article include the game Chinese whispers to improve vocabulary in children. Chinese whispes game is a game that is done in groups, by whispering to convey messages in sequence until the last player. In principle the game Chinese Whipers is able to train children in improving vocabulary, because in this game the child will mention the words instructed by the teacher or friend.
Keywords
child vocabulary, chinese whispers game.
References
Bawono, Y. (2017). Kemampuan Berbahasa Pada Anak Prasekolah. 166-125.
Delfita, R. (2012). Meningkatkan Kemampuan Berbahasa Anak Melalui Permainan Gambar dalam Bak Pasir di Taman Kanak-kanan Bina Anaprasa Mekar Sari Padang. Pesona PAUD, I(1): 1-10.
Dewi, dkk. (2014). Penerapan Model Pembelajaran Cooverative Script Melalui Permainan Bisik Berantai untuk Meningkatkan Perkembangan Berbahasa pada Anak. e-journal PG-PAUD Universitas Pendidikan Ganesha, II(1): 1-10.
Hartanto, F. dkk. (2011). Pengaruh Perkembangan Bahasa Terhadap Perkembangan Kognitif Anak Usia 1-3 Tahun. Sari Pediatri, XII(6): 386-390.
Hastuti, E, W, dkk, (2018). Meningkatkan Perkembangan Bahasa Anak Usia 4-5 Tahun melalui Permainan Pesan Berantai. Jurnal Ilmiah Kajian Ilmu Anak dan Media Informasi. (Online), jilid 2, No. 2, (http://ejurnal.unisri.ac.id/index.php/jpaud, diakses Desember 2017)
Markus, N. (2017). Penguasaan Kosakata Bahasa Indonesia Anak Usia 4-5 Tahun. Jurnal Ilmiah Fenomena. (Online), jilid 4, No. 2, (http://ejournal.unitomo.ac.id/index.php/pbs, diakses Desember 2017)
Mulyati, TT. Peningkatan Kemampuan Menyimak Anak Melalui Permainan Pesan Berantai di TK Taufiq Perguruan Islam Bayur. Jurnal Pesona Paud, I(1): 1-13.
Nurjamiaty. (2015). Pemerolehan Bahasa Anak Usia Tiga Tahun berdasarkan Tontonan Kesukaanya ditinjau dari Kontruksi Semantik. Edukasi kultura, II (1): 42-62.
Nurzaman, I, dkk. (2017). Penggunaan Permainan Pesan Gambar Berantai untuk Meningkatkan Kosakata Bahasa Inggris Anak Usia Dini. Jurnal PAUD Agapedia, I(1): 40-51.
Rahmawati, N. (2014). Pengaruh Media Pop-up Book Terhadap Penguasaan Kosakata Anak Usia 5-6 Tahun di Tk Putera Harapan Surabaya. Jurnal: PAUD Teratai, III(1): 1-6.
Roesminingsih, E, Sakti, M. (2017). Implementasi Permainan Bisik Berantai Kartu Bergambar dalam Menstimulasi Kemampuan Mengingat Anak Kelompok A di TK Santhi Puri Sidoarjo. Jurnal PAUD Teratai, VI (3): 1-4.
Utami, P. dkk. (2018). Chinese Whispers Game as One Alternative Technique To Teach Speaking. Tradis bahasa inggris, XI(1): 99-112.
Zubaidah, E. (2004). Perkembangan Bahasa Anak Usia Dini dan Teknik Pengembangannya di Sekolah. Jurnal Cakrawala Pendidikan. (Online), No. 3, (https://media.neliti.com, diakses November 2004)
Fauziddin, M. (2018). Useful of Clap Hand Games for Optimalize Cognivite Aspects in Early Childhood Education. Jurnal Obsesi. (Online), jilid 2, No. 2, (https://doi.org/10.31004/obsesi.v2i2.76, diakses 03 Agustus 2018).
Undang-undang Republik Indonesia Nomor 20 Tahun 2003. Sistem Pendidikan Nasional. Bab 1 pasal 1 ayat 14.
Peraturan Menteri Pendidikan Nasional Nomor 58 tahun 2009. Standar Pendidikan Anak Usia Dini.
DOI:
https://doi.org/10.21107/pgpaudtrunojoyo.v7i1.6420
Refbacks
There are currently no refbacks.
Copyright (c) 2020 Eva Roswati

This work is licensed under a
Creative Commons Attribution 4.0 International License
.
Diterbitkan oleh: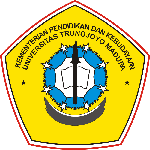 Program Studi Pendidikan Guru Pendidikan Anak Usia Dini, Fakultas Ilmu Pendidikan
Universitas Trunojoyo Madura.
Jl. Raya Telang PO BOX 2 Kamal, Bangkalan, Jawa Timur 69162
Telp. (031)3014239/ Fax. (031)3011506