Efektivitas Mozaik Bahan Alam (Sisik Ikan) terhadap Motorik Halus Anak
Abstract
This research to knowing the effectiveness of natural mosaic materials (fish scales) on children's fine motor skills In Kindergarten Jabal Rahmah Padang. This type of research is quantitative method with the type of experiments or research quashi experimental by using natural mosaic (fish scales) the results of this study obtained an average value obtained from the experimental class which uses higher natural ingredients (fish scales) (82.50) compared to the control class that uses seashell mosaic (73,12). Based on the calculation the t-test was obtained that tcount is greater than t table shows that there is a significant effect on fine motor.
Keywords
Mosaic of Natural Materials, Fish Scales, Fine Motor, Early Childhood
References
Arikunto, Suharsimi. (2010). Prosedur Penelitian. Rineka Cipta.
Aquarisnawati, Putri Dkk. (2011) Motorik Halus Anak Usia Dini Prasekolah Di Tinjau Dari Bender Gestalt. Vol.13 No .3
Berlian, Eri. (2016). Metodelogi Penelitian Kualitatif dan Kuantitatif. Padang. Sukabina Press
Eliza, Delfi. (2013). Penerapan Model Pembelajaran Kontekstual Learning (Ctl) Berbasis Centra di Taman Kanak-Kanak.
Fauziddin, M. (2018) Meningkatkan Kemampuan Motorik Halus Melalui Teknik Mozaik Pada Anak Kelompok B Di Tk Perdana Bangkinang Kota, Http://E-Journal.Iki Veteran.Ac.Id/Index.Php/Sece/Articel/Download/581/598/
Hermoyo R. Panji (2014) Membentuk Komunikasi Yang Efektif Pada Masa Perkembangan Anak Usia Dini.
Http://Journal.Um-Surabaya.Ac.Id/Index.Php/Pedagogi/Articel/Download/21/32
Guslinda & Kurnia, Rita. (2018). Media Pembelajaran Anak Usia Dini. Surabaya: CV Jakad Publishing.
Latif, Mukhtar dkk. (2016). Oriantasi Baru Pendidikan Anak Usia Dini. Jakarta: Kencana.
Sit, Masganti. (2017). Psikologi Perkembangan Anak Usia Dini. PT. Glora Aksara Pratama
Sujiono,Yuliani N. (2013). Konsep Dasar Pendidikan Anak Usia Dini . Jakarta: Pt Indeks.
Suryana. Dadan. (2016). Pendidikan Anak Usia Dini Stimulasi Dan Aspek Perkembangan Anak,Cetakan Ke-1. Jakarta: Kencana.
Suyadi. (2014). Teori Pembeljaran Anak Usia Dini. Bandung: PT Remaja Rosdakarya.
Suyadi dan Ulfa, Maulidya. (2013). Konsep Dasar PAUD. Bandung: Remaja Rosdakarya
DOI:
https://doi.org/10.21107/pgpaudtrunojoyo.v6i2.6152
Refbacks
There are currently no refbacks.
Copyright (c) 2019 Rici Rulmalia, Zulminiati Zulminiati

This work is licensed under a
Creative Commons Attribution 4.0 International License
.
Diterbitkan oleh: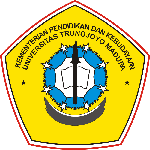 Program Studi Pendidikan Guru Pendidikan Anak Usia Dini, Fakultas Ilmu Pendidikan
Universitas Trunojoyo Madura.
Jl. Raya Telang PO BOX 2 Kamal, Bangkalan, Jawa Timur 69162
Telp. (031)3014239/ Fax. (031)3011506