Pengembangan Kemandirian Anak Usia 5-6 Tahun di TK Dharmawanita Tunas Harapan
Abstract
This study was aimed at describing development of the independence of children aged 5-6 year in  TK Dharmawanita Tunas Harapan kabupaten Pesisir Selatan. The research method is used  a qualitative descriptive. Thedata  were  gained  through  conducting  interviews,  observation  and  documentation.   The  data  were  then  analyzed using interactive model of data analysis from Miles and Huberman. The data was analyzed  by using triangulation  technique through collection data, reduction,  display, and verification. From the result research showed that development of independence refers to the curiculum. The learning method used by the teacher in developing independence is the method of habituation, conversing, question answer, playing and giving assignments. But in planning it is not clerly described the development of children's independence.
Keywords
Development of Independence; Learning; children age 5-6 years old
References
Eliza Delfi. 2013. Penerapan Model Pembelajaran Kontekstual Learning (CTL) Berbasis Centra di Taman Kanak-kanak. Jurnal Ilmiah Pendidikan, Vol XIII Nomor 2 November 2013. Hlm, 93-106
Farida Mayar.2013. Perkembangan Sosial Anak Usia Dini Sebagai Bibit Untuk Masa Depan Bangsa. Jurnal Al-Ta'lim. Jilid 1. Nomor 6 November 2013. Hlm. 459-464
Hewi La. 2015. Kemandirian Usia Dini Di Suku Bajo. Jurnal PAUD. Volume 9. Hlm. 76
Hayati, Fitriah dan Hanum, Cut Fazlil. 2017. Persepsi Guru PAUD Terhadap Kegiatan Bermain Peransebagai Stimulasi Kemandirian. Jurnal Penelitian. Nomor 2. Hlm.137
Latif. Mukhtar dkk, 2014. Orientasi Baru Pendidikan Anak Usia Dini. Terori Dan Aplikasi. Jakarta : Kencana
Maidita Putri, Rakimahwati, Zulminiati. 2018. Efektifitas Penerapan Metode Bermain Peran Makro Terhadap Perkembangan Bahasa Lisan Anak Di Tman Kanak-Kanak Darul Falah Kota Padang. Jurnal Ilmiah Potensia, 2019,Vol 4 (1), 49-59
Mulyasa.2012. Manajemen PAUD. Bandung ; PT Remaja Rosdakarya
Moleong, lexy. 2012. Mtodelogi Penelitian Kualitatif. Bandung:Rosdakarya
Ramayulis. 2013. Profesi Dan Etika Keguruan. jakarta : kalam mulia
Saputri Arining Tias. 2016. Penanaman Nilai Kemandirian Dan Kedisiplinan Bagi Anak Usia Dini. Jurnal agama islam. Hlm. 4
Sugiyono. 2013. Metode Penelitian Pendidikan Pendekatan Kuantitatif, Kualitatif, Dan R & D. Bandung: Alfabeta
Suyadi, & Ulfah.2013. Konsep Dasar Pendidikan Ank Usia Dini. Bandung: Rosdakarya
Susanto. 2017. Pendidikan Anak Usia Dini (Konsep Dan Teori. PT:Bumi Aksara
Trianto. 2011. Desain Pengembangan Pembelajaran Tematik Bagi Anak Usia Dini TK/RA & Anak Usia Kelas Awal SD/MII.Jakarta :Ciputat Press
Wibowo, Agus. 2013.Pendidikan Karakter Anak Usia Dini (Strategi Membangun Karakter Di Usia Emas). Yogyakarta : pustaka belajar.
Yamin, Sanan. 2013. Panduan PAUD (Pendidikan Anak Usia Dini). Jakarta: Gaung Persada Press Group
Yaswinda. (2013).Growing Role Of The Teacher In Independence Children Age 2-4 Years. Indonesia Journal Of Early Childhood Education Studies. Hlm 15
DOI:
https://doi.org/10.21107/pgpaudtrunojoyo.v6i2.5539
Refbacks
There are currently no refbacks.
Copyright (c) 2019 Malia Silranti

This work is licensed under a
Creative Commons Attribution 4.0 International License
.
Diterbitkan oleh: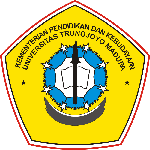 Program Studi Pendidikan Guru Pendidikan Anak Usia Dini, Fakultas Ilmu Pendidikan
Universitas Trunojoyo Madura.
Jl. Raya Telang PO BOX 2 Kamal, Bangkalan, Jawa Timur 69162
Telp. (031)3014239/ Fax. (031)3011506