Pengaruh Metode Bercerita Terhadap Kemampuan Mengungkapkan Bahasa Anak Usia 5-6 Tahun di TK Pertiwi 1 Banjarsari
Abstract
The purpose of this study is to reveal the influence of storytelling method toward the ability of revealed language the of Child Aged 5-6 Years Old at Pertiwi 1 Banjarsari. This research uses quantitative approach by using experiment method; the research design uses Pre-Experimental design (nondesign) which includes pre-test and pos-test. Subject of this research is a child aged 5-6 years old in Pertiwi 1 Banjarsari Kindergarten about 19 students. Data collecting technique through the observation and documentation. Data analysis technique the inferensial statistics by using t data experiment analysis (T-Test). The result of data analysis is acquired value r = 0,68,  wich are -2,450  -11,66, thus is accepted wich means there is significanct influence between Sorytelling Method to child's revealed language ability.
Keywords
Storytelling Method; Ability of Revealed Language; Early Childhood Education
References
Armstrong, T. 2013. Kecerdasan Multipel Di dalam Kelas. Jakarta: PT Indeks.
Fadillah, M. 2012. Desain Pembelajaran PAUD. Jogjakarta: Ar-Ruzz Media.
Latif, M, dkk. 2013. Orientasi Baru Pendidikan Anak Usia Dini. Jakarta: PT Fajar Interpratama Madiri.
Moeslichatoen. 2004. Metode Pengajaran di Taman Kanak-kanak. Jakarta: Rineka Cipta.
Peraturan Menteri Pendidikan Dan Kebudayaan Republik Indonesia Nomer 84 Tahun 2014 Pasal 1 Tentang Pendirian Satuan Pendidikan Anak Usia Dini.
Sugiyono. 2014. Metode Penelitian Pendidikan Pendekatan Kuantitatif, Kualitatif, dan R&D. Bandung: Alfabeta.
Madyawati, L. 2016. Strategi Pengembangan Bahasa pada Anak. Jakarta: Prenada Media Group.
Mansyur, Y. 2009. Pengajaran Bahasa Secara Umum. Jakarta: Bumi Aksara.
DOI:
https://doi.org/10.21107/pgpaudtrunojoyo.v5i2.5441
Refbacks
There are currently no refbacks.
Copyright (c) 2018 Gana Kartinika Hadi

This work is licensed under a
Creative Commons Attribution 4.0 International License
.
Diterbitkan oleh: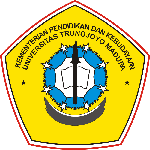 Program Studi Pendidikan Guru Pendidikan Anak Usia Dini, Fakultas Ilmu Pendidikan
Universitas Trunojoyo Madura.
Jl. Raya Telang PO BOX 2 Kamal, Bangkalan, Jawa Timur 69162
Telp. (031)3014239/ Fax. (031)3011506