Jadwal Kegiatan pada Sekolah Sehari Penuh dalam Menanamkan Kedisiplinan
Abstract
This study aims to describe about the application activity schedule of full day school in Primagama Creative Kindegarten Padang. This study used a descriptive method with a qualitative approach. Informants from this study were principal and full day teachers. The techniques of data collection in this study were observation technique, interview technique, and documentation technique. The data analysis techniqueused was data triangulation technique. The results of the study were generally known that the application of activity schedule of dull day school in instilling disciplinary in Primagama Creative Kindegarten Padang have been well implemented. The teachers have made planning, implementation, and evaluation that was able to develop children's discipline attitudes through habituation with scheduled activities. So, it can be concluded that planning, implementation, and evaluation carried out in order to instill a discipline in children was accordance with the guidelines designed by the teachers.
Keywords
Activity Schedule; Full Day School; Disciplinary
References
Arikunto, Suharsimi. (2016). Manajemen Penelitian. Jakarta: Rineka Cipta.
Budźinska, Anna, dkk. (2014). Use of Scripts and Script-Fading Procedures and Activity Schedules to Develop Spontaneous Social Interaction In a Three-Year-Old Girl with Autism. Health Psychology Report Volume 2(1)
Eliza, Delfi. (2013). Penerapan Model Pembelajaran Konstektual Learning (CTL) Berbasis Centra di Taman Kanak-Kanak. Pendagogi Jurnal Ilmiah Ilmu Pendidikan. Volume XIII Nomor 2 November 2013
Latif, Mukhtar, dkk. (2014). Orientasi Baru Pendidikan Anak Usia Dini: Teori dan Aplikasi. Jakarta: Kencana.
Mahyuddin, Nenny. (2008). Asesmen Anak Usia Dini. Padang: UNP Press.
Marlina, Serli. (2014). Peningkatan Sikap Sosial Anak Usia Dini Melalui Permainan Puzzle Buah di Taman Kanak-kanak Aisyiyah Bukittinggi. PEDAGOGI Jurnal Ilmiah Ilmu Pendidikan Volume XIV Nomor 2 November 2014
Moleong, Lexy J. (2009). Metodologi Penelitian Kualitatif. Bandung: Remaja Rosdakarya.
Muzakki. (2015). Implementasi Pembelajaran Anak Usia Dini Berbasis Budaya Lokal di PAUD Full Day School. Jurnal Pendidikan dan Pemberdayaan Masyarakat Volume 2 Nomor 1, Maret 2015 (39-54)
Noffia, Irma dan Margaretha. (2015). Mengembangkan Disiplin Anak Usia Dini Melalui Permainan Tradisional. Jurnal Cakrawala Dini: Volume 5 Nomor 2, November 2015
Seefeldt, Carol. (2008). Pendidikan Anak Usia Dini Menyiapkan Anak Usia Tiga, Empat,dan Lima Tahun Masuk Sekolah. Jawa Tengah: PT.Macanan Jaya Cemerlang.
Siregar, Lis Yulianti. (2017). Full Day School Sebagai Penguatan Pendidikan Karakter (Perspektif Psikologi Pendidikan Islam). Jurnal Pendidikan dan Manajemen Islam Volume 05 Nomor 02, Juli 2017
Stromer, Robert. (2006). Activity Schedules, Computer Technology, and Teaching Children with Autism Spectrum Disorders. Journal Focus On Autism and Other Developmental Disabilities Volume 21 Number 1, Spring 2006
Sugiyono. (2017). Metode Penelitian Pendidikan Pendekatan Kuantitatif, Kualitatif, dan R& D. Bandung: Alfabeta.
Utami, Tri. (2012). Pengalaman Ibu Mengasuh Anak dengan Resiko GPPH. Jurnal Nursing Studies Volume 1 Nomor 1 Halaman 237-243
DOI:
https://doi.org/10.21107/pgpaudtrunojoyo.v6i1.5376
Refbacks
There are currently no refbacks.
Copyright (c) 2019 Zyaqiah Almuna Wara, Serli Marlina

This work is licensed under a
Creative Commons Attribution 4.0 International License
.
Diterbitkan oleh: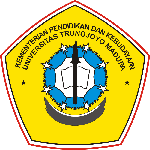 Program Studi Pendidikan Guru Pendidikan Anak Usia Dini, Fakultas Ilmu Pendidikan
Universitas Trunojoyo Madura.
Jl. Raya Telang PO BOX 2 Kamal, Bangkalan, Jawa Timur 69162
Telp. (031)3014239/ Fax. (031)3011506