Pengaruh Kegiatan Herbarium Terhadap Perkembangan Kreativitas Anak di PAUD Kasih Ibu I Luar Parit
Abstract
The purpose of this study was to determine the creativity development of children 5-6 years old with herbarium activities in PAUD Kasih Ibu I Luar Parit. The creativity development activities in the field use dry leaf collage activities and serveral other activities such as drawing coloring, and forming fruits from plasticine. But the work produced is almost exactly the same as the teacher's example. Through this herbarium activity researhers want to see the creativity development of children 5-6 years. Quantitative reasearch with experimental methods in the form of quasi experimental is a method in this study. All children in PAUD Kasih Ibu I Luar Parit totaling 34. Group B1 experimental sample and B2 control sample with 12 children each class. Purposive sampling. As for the technique of collecting data using deed test and oral test.statement instrumen grid is used as a data collection tool. The results of the average experimental 77,77 and the control 70,83. So the use of herbarium activities had a significant effect on the development of creativity of children 5-6 years old at the PAUD Kasih Ibu I Luar Parit academic years 2018/2019.
Keywords
herbarium activity; creativity of children 5-6 years; quasi experimental
References
Arikunto, Suharsimi. (2014). Prosedur Penelitian Suatu Pendekatan Praktik. Rineka Cipta: Jakarta.
Basuki, Ismet & Yanto, Hari. (2014). Asesmen Pembelajaran, Bandung, PT Remaja Rosda Karya.
Eliza, Delfi. (2013). Penerapan Model Pembelajaran Kontekstual Learning (CTL) Berbasis Centra di Taman- Kanak-Kanak
Ismaniar & Nur, Hazizah. (2018). Buku Ajar Pelatihan Kreativitas Deu-coupage bagi Pendidikan PAUD. Jurusan Pendidikan Luar Sekolah Fakultas Ilmu Pendidikan Universitas Negeri Padang: Padang.
Latismah, D. J. (2011). Evaluasi Pendidikan. Padang: UNP Press
Mertha, I. G., Idrus, A. A., Ilhamdi, M.L., & Zulkifli L. (2018). Pelatihan Teknik Pembuatan Herbarium Kering dan identifikasi tumbuhan berbasis lingkungan sekolah di SMAN 4 Mataram. Jurnal Pendidikan dan Pengabdian masyarakat. Vol. 1 No. 1, Februari 2018 E-ISSN. 2614-7939 P-ISSN. 26147947.
Mulyasa. (2014). Manajemen PAUD. Bandung: Remaja Rosda Karya
Murni, P., Muswita, Harlis, Yelianti U., Kartika W.D. (2015). Lokakarya Pembuatan Herbarium Untuk Pengembangan Media Pembelajaran Biologi Di Man Cendikia Muaro Jambi. Jurnal Pengabdian Pada Masyarakat Volume 30, Nomor 2 April – Juni 2015.
Rachmawati, Yeni & Euis Kurniati. (2011). Strategi Pengembangan Kreativitas Pada Anak Usia Taman Kanak-Kanak. Jakarta: Kencana
Sriandila, Regil. (2016). Pengaruh Oshibana Terhadap Perkembangan Kreativitas Seni di Taman Kanak-Kanak Kemala Bhayangkari 12 Pariaman. Belum dipublikasikan.
Sugiyono. (2017). Metode Penelitian Kuantitatif, Kualitatif dan R & D. Bandung: Alfabeta
Suryana, Dadan. (2016). Pendidikan Anak Usia Dini Stimulasi & Aspek Perkembangan Anak. Padang: Kencana
Suyadi. (2014). Teori Pembelajaran Anak Usia Dini Dalam Kajian Neurosains. Bandung: Remaja Rosdakarya
Yaswinda, Yulsyofriend, & Mayar, Farida. (2018). Pengembangan Bahan Pembelajaran Sains Berbasis Multisensori Ekologi Bagi Guru Paud Kecamatan Tilatang Kamang Kabupaten Agam. Yaa Bunayya : Jurnal Pendidikan Anak Usia Dini Volume2 No.II November 2018
DOI:
https://doi.org/10.21107/pgpaudtrunojoyo.v6i1.5372
Refbacks
There are currently no refbacks.
Copyright (c) 2019 Endang Susri Ranti, Nur Hazizah

This work is licensed under a
Creative Commons Attribution 4.0 International License
.
Diterbitkan oleh: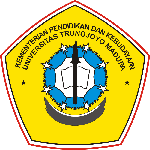 Program Studi Pendidikan Guru Pendidikan Anak Usia Dini, Fakultas Ilmu Pendidikan
Universitas Trunojoyo Madura.
Jl. Raya Telang PO BOX 2 Kamal, Bangkalan, Jawa Timur 69162
Telp. (031)3014239/ Fax. (031)3011506