Pengaruh Model Pembelajaran Sentra Peran Terhadap Kemampuan Berbicara Anak Usia 5-6 Tahun di TK Islam Al-Khalifa Solerejo Mojowarno Jombang
Abstract
The purpose of this study was to determine the effect of learning models of role Centers on speech capabilities of child aged 5-6 years old at Al-Khalifa Islamic Kindergarten Ngepung backwoods, Solorejo Village, District Mojowarno, Jombang Regency. This research uses quantitative approach by using Experimental method with design pre-experimental research design(nondesigns) Type of one-grouppre-testpost-test.The subject of this study is a child aged 5-6 years old in Islamic Kindergarten Al-Khalifa Jombang as many as 17children's which is representative from the whole number of research. Data collecting technique through the observation and documentation. By using t data experiment analysis  (T-Test). The result of data analysis is obtained r = 0,55 and t-test obtained grade t-count Amount -0,88 and t-table 2,178. Then t-table is bigger than t-count(-2,178 > -0,88), if t-table > t-count H is accepted on standard of significanse 5% which means there is significant influence between learning model of role center to child's speaking ability. 
Keywords
Role Centers; speaking ability; Early Childhood Education
References
Al Rasyid & Mujtahidin. 2013. Ilmu Pendidikan, Madura: Utm pers
Dhieni, N. 2013. Metode Pengembangan Bahasa, Tangerang: Universiatas Terbuka Een Y.Haenilah, E. 2015. kurikulum dan pembelajaran PAUD. Yogyakarta; Media Akademi Fadillah, M. 2012. Desain Pembelajaran PAUD. Jogjakarta: Ar-Ruzz Media.
Latif, M, dkk. 2013. Orientasi Baru Pendidikan Anak Usia Dini. Jakarta: PT Fajar Interpratama Madiri.
Madyawati, L. 2016. Strategi Pengembangan Bahasa Pada Anak. Jakarta:Prenadamedia Group.
Mutiah, D. 2010. Psikologi Bermain Anak Usia Dini. Jakarta: Prenada Media Group.
Santrock, J, W. 2012. Life-Span Development Perkembangan Masa-Hidup. Jakarta: PT Gelora Akasara Pratama.
Sugiyono. 2015. Metode Penelitian Pendidikan Pendekatan Kuantitatif, Kualitatif, dan R&D. Bandung: Alfabeta.
Suyadi. 2014. Teori Pembelajaran Anak Usia Dini Dalam Kajian Neurosains. Bandung: PT Remaja Rosdarkarya
Undang-Undang Republik Indonesia No. 20 Tahun 2003 Tentang Sistem Pendidikan Nasional. 2008. Jakarta.
Utin, dkk. 2009. Panduan penyelenggara sentra pada kelompok bermian. Surabaya: Depertemen Pendidikan Nasional
Nur, A. 2013. Tingkat Keterampilan Berbicara Ditinjau Dari Metode Bermain Peran Pada Anak Usia 5-6 Tahun. Skripsi (Online). (http://lib.unnes.ac.id/18753/1/1601409035.pdf), diakses Rabu 19 April 2017.
Agustyaintansari. 2014. Macam-Macam Kegiatan Pembelajaran Sentra PAUD, (online) (http://www.kompasiana.com/agustyaintansari/macam-macam-kegiatan-pembelajaransentra paud_54f6fa3fa33311170f8b45f2), Diakses 27 April 2017.
Kompas.com. 2009. Gangguan Perkembangan Bahasa pada Anak, (online),
(http://lifestyle.kompas.com/read/2009/12/09/13312448/gangguan.perkembangan.bahas a.pada.anak), diakses selasa 18 april 2017.
DOI:
https://doi.org/10.21107/pgpaudtrunojoyo.v5i1.3849
Refbacks
There are currently no refbacks.
Copyright (c) 2018 Lailina Farikha, Muhammad Busyro Karim, Yulias Wulani Fajar, Ratna Nila Puspitasari

This work is licensed under a
Creative Commons Attribution 4.0 International License
.
Diterbitkan oleh: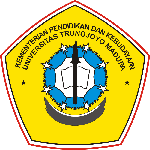 Program Studi Pendidikan Guru Pendidikan Anak Usia Dini, Fakultas Ilmu Pendidikan
Universitas Trunojoyo Madura.
Jl. Raya Telang PO BOX 2 Kamal, Bangkalan, Jawa Timur 69162
Telp. (031)3014239/ Fax. (031)3011506