Pengaruh Media Pembelajaran Berbasis Komputer Aplikasi Paint Terhadap Kemampuan Kognitif Anak Usia 4-5 Tahun di TK Aisyiyah Bustanul Athfal 22 Balongpanggang
Abstract
The purpose of this study is determine the effect of computer based on the learning of media Paint application forward the cognitive abilities of children A2 TK Aisyiyah Bustanul Athfal 22 Balongpanggang Gresik. Media of learning is everything that is used by teacher to simplify the delivery of learning materials. The media is computer-based learning which has paint application that is used to stimulate the cognitive abilities of children, especially in aspects of learning and problem solving, logical thinking, and symbolic thinking. This research uses quantitative approach that is experimental method with Pre-experimental design research design type one-group pre-test post-test. The subject of this study is a group A children in kindergarten AisyiyahBustanulAthfal 22 Balongpanggang Gresik as many as 11 children. Techniques of collecting data of ths research is participant observation and documentation in the form of photos of activities and plans of daily learning. Data processing uses t-test data analysis. The result of data analysis obtained by Tcount value is -5,45 and Ttable value 2,086 then  (-2,086> -5,45) and Ha accepted. Based on the data analysis shows there is a significant influence between computer-based learning media paint application to the cognitive abilities of children.
Keywords
Computer-based learning media paint application; cognitive ability; children aged 4-5 years
References
Arsyad, A. 2011.Media Pembelajaran. Jakarta: Rajawali Pers.
Beaty, J. 2013.Observasi Perkembangan Anak Usia Dini. Jakarta: Kencana Prenadamedia Group.
Dina, I. 2011. Ragam Alat Bantu Media Pengajaran.Jogjakarta: DIVA Press.
Fadlillah, M. 2012. Desain Pembelajaran Paud. Jogjakarta: Ar-Ruzz Media.
Kompri .2014.Manajemen Sekolah Teori & Praktek.Bandung: Alfabeta.
Marisa, dkk.2011.Komputer dan Media Pembelajaran. Jakarta: Universitas Terbuka.
Munir. 2010. Kurikulum Berbasis Teknologi Informasi Dan Komunikasi. Bandung: Alfabeta.
--------. 2012. MULTIMEDIA Konsep & Aplikasi dalam Pendidikan. Bandung: Penerbit Alfabeta.
Patmonodewo, S.2008. Pendidikan Anak Prasekolah(Cetakanke-2). Jakarta: PT Asdi Mahasatya.
Pribadi, B. 2010.Komputer dalam Kegiatan Pengembangan Anak Usia Dini (Cetakan ke-5). Jakarta: Universitas Terbuka.
Sanjaya, W. 2012.Media Komunikasi Pembelajaran.Jakarta: Kencana Prenadamedia Group.
Semiawan, R. 2008. Belajar dan Pembelajaran Prasekolah dan Sekolah Dasar.PT. Indeks.
Uyu, W dan Mubiar, A. 2012.Penilaian Perkembangan Anak Usia Dini. Bandung: PT Refika Aditama.
Wati, E. 2016.Ragam Media Pembelajaran.Yogyakarta: Kata Pena.
Permendiknas Nomor 137 Tahun 2014 Tentang Standar Sarana dan Prasarana, Bab 8, Pasal 31, Ayat 1
Kompasiana.Com. Mengenalkan Komputer Kepada Anak Usia Dini. http://googleweblight.com/?lite_url=https://www.kompasiana.com/tasya_amalina14/mengenalkan-komputer-kepada-anak-usia-dini_54f98a1ea33311106a8b48f6&ei=JYkilqrH&lc=id-ID&geid=33&s=1&m=801&host=www.google.com&ts=1511095921&sig=ANTY_L3TzFbekbGH60IUDMAsSTUj29CY1A(Diakses tanggal 3 Februari 2017)
DOI:
https://doi.org/10.21107/pgpaudtrunojoyo.v5i1.3845
Refbacks
There are currently no refbacks.
Copyright (c) 2018 Wiwit Widiawati Widiawati, Muhammad Busyro Karim, Dewi Mayangsari

This work is licensed under a
Creative Commons Attribution 4.0 International License
.
Diterbitkan oleh: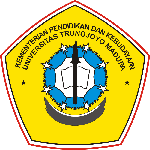 Program Studi Pendidikan Guru Pendidikan Anak Usia Dini, Fakultas Ilmu Pendidikan
Universitas Trunojoyo Madura.
Jl. Raya Telang PO BOX 2 Kamal, Bangkalan, Jawa Timur 69162
Telp. (031)3014239/ Fax. (031)3011506