Pengembangan Keterampilan Sosial Anak Usia Dini Melalui Permainan Tradisional Madura
Abstract
A person should have the social skills to be able to interact with his environment. Social skills should be developed at an early age, because at this early age individuals have learned to socialize with other individuals. Therefore, social skills can be developed from an early age, so that children can play a role in socializing  with his environment. Development of early child social skills can be done with many things, one of  Madurese traditional game. The traditional game of Madura is a game in Madura, which in fact is currently largely abandoned. There are various kinds of Madurese traditional games, where in this article there are games Kocheng-tekos and bhisek as one of the development alternatives that can be applied in order to develop social skills for early childhood.
Keywords
social skill, early childhood, traditional game of Madura
References
A. Lynch, S. a. (2010). Social Skills: Laying The Foundation For Succes. DIMENSIONS OF EARLY CHILDHOOD, 03-11.
Apriani, D. (2016). Penerapan Permainan Tradisional Engklek Untuk Meningkatkan Kemampuan Motorik Kasar Anak Kelopok B RA Al-Hidayah 2 Tarik Sidoarjo. Jurnal UNESA, 04.
Arnold DH, K. J.-L. (2012). The association between preschool children's social functioning and their emergent academic skills. Early Child Res Q, 27, 376–386.
Cahyani, N. L., Kristianatar, M. R., & Manuaba, S. (2014). Model Pembelajaran Quantum Melalui Permainan Tradisional Untuk Meningkatkan Kognitif Anak Kelompok B TK Kumara Jaya Denpasar. e-Jounal PG-PAUD Universitas Pendidikan Ganesha Jurusan Pendidikan Anak Usia Dini.
Ismail, R. (2016). Increasing Student's Social Skill Through Playing Methode. Jurnal Pendidikan Usia Dini, 315-326.
Jamson, K. R., Forston, L. D., & Chapman, T. L. (2012). Encouraging Social Skill Development Through Play In Early Childhood Special Education Classroom. SAGE Journal.
Lestariningrum, A. (2017). Penerapan Permainan Tradisional dalam Pembelajaran Anak Usia Dini. Seminar Nasional Penguatan Kemitraan, Akademisi, Satuan Pendidikan PAUD, Keluarga dan Masyarakat Menuju Profesionalitas (pp. 01-08). Surabaya: Jurusan PGPAUD Fakultas Ilmu Pendidikan Universitas Negeri Surabaya.
Margareta, A. G. (2015). Pengaruh Permainan Engklek Terhadap Keamampuan Loncat Anak Usia 4-5 Tahun di TK PKK Semanding dan TK Aisyiyah Pabelan. UMS.
Takahashi, Y., Okada, K., Hoshino, T., & Anme, T. (2015). Developmental Trajectories of Social Skills during Early Childhood and Links to Parenting Practices in a Japanese Sample. Journal Plos.
DOI:
https://doi.org/10.21107/pgpaudtrunojoyo.v5i1.3685
Refbacks
There are currently no refbacks.
Copyright (c) 2018 Diana Vidya Fakhriyani

This work is licensed under a
Creative Commons Attribution 4.0 International License
.
Diterbitkan oleh: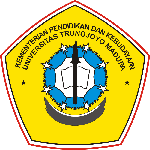 Program Studi Pendidikan Guru Pendidikan Anak Usia Dini, Fakultas Ilmu Pendidikan
Universitas Trunojoyo Madura.
Jl. Raya Telang PO BOX 2 Kamal, Bangkalan, Jawa Timur 69162
Telp. (031)3014239/ Fax. (031)3011506