Peningkatan Perilaku Prososial pada Anak Usia 4-5 Tahun Melalui Kegiatan Outbond Fun Estafet di Tk PGRI Langkap Burneh Bangkalan
Abstract
Prosocial behavior is an important value in developing social relationships with the community environment starting with learning to adjust and cooperate in play activities. In Kindergarten PGRI Langkap, Burneh Bangkalan parents and teachers complain about the child's prosocial behavior is perceived as lacking. One strategy chosen to develop this aspect is to invite children to play outside the room, held a competition and usually called Outbond. Outbond activities in this research called Fun Outbond Esafet implemented in groups. The purpose of this study is the researchers wanted to know the effectiveness of activities Outbound Fun Relay in Kindergarten PGRI Langkap Burneh Bangkalan to improve prosocial behavior. The methods used Classroom Action Research. The results of this research, Outbound Fun Relay activities can improve the prosocial ability of children aged 4-5 years in Kindergarten PGRI Langkap, Burneh Bangkalan. The child's prosocial ability increased from 31% to 86.20% over two cycles.
Keywords
Prosocial Behavior, Children Aged 4-5 Years, Outbound
References
Arikunto,dkk. 2008. Penelitian Tindakan Kelas. Jakarta:PT Bumi Aksara.
Dayaksini, T., dan Hudaniah. 2003. Psikologi Sosial. Malang: UMM.
Hurlock, E. 1978. Perkembangan Anak Jilid 1 ed.6. Jakarta: Erlangga.
Hurlock, E. 2006. Psikologi Perkembangan. Jakarta: Erlangga.
Moleong, L. J. 2008. Metodologi Penelitian Kualitatif. Bandung : PT. Remaja Rosdakarya.
Sanjaya, Wina. 2010. Penelitian Tindakan Kelas. Jakarta: Kencana Prenada Media Grup.
Shoimin, Aris. 2014. 68 Model Pembelajaran Kontekstual dan Penerapannya dalam KBK. Malang: Universitas Negeri Malang.
Sugiyono, 2012. Metodologi Penelitian Pendidikan. Bandung: Alfabeta.
Sujiani, Y. 2012. Konsep Dasar Pendidikan Anak Usia Dini. Jakarta : PT Indeks.
Totong, U. 2011. Pengaruh Outbond Traning Terhadap Peningkatan Rasa Percaya Diri Kepemimpinan dan Kerjasama Tim. Skripsi. Surakarta: Universitas Pembangunan, 2011.
Widiasworo, E. 2017. Strategi & Metode Mengajar Siswa di Luar Kelas. Yogyakarta: Ar-ruzz Media.
Zaenal, A. 2013. Metodologi Penelitian Pendidikan. Yogyakarta: Diva Press.
DOI:
https://doi.org/10.21107/pgpaudtrunojoyo.v4i2.3574
Refbacks
There are currently no refbacks.
Copyright (c) 2018 Dewi Mayangsari, Evi Dwi Novita Sari, Nofiana Munaila

This work is licensed under a
Creative Commons Attribution 4.0 International License
.
Diterbitkan oleh: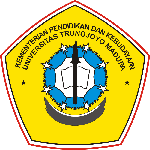 Program Studi Pendidikan Guru Pendidikan Anak Usia Dini, Fakultas Ilmu Pendidikan
Universitas Trunojoyo Madura.
Jl. Raya Telang PO BOX 2 Kamal, Bangkalan, Jawa Timur 69162
Telp. (031)3014239/ Fax. (031)3011506