Analisis Kompetensi Profesional Guru PAUD Kabupaten Siak Provinsi Riau
Abstract
Teachers are the critical success factors of an educational process. Teachers must have competence in educating one of the competencies of teachers is professional competence. Professional competence describes the ability of teachers to master learning materials. The purpose of this study is to analyze the competence of paud teachers who have completed the S1 study located in Siak regency. The method used is quantitative decryption by conducting tests on 36 teachers. From the results of the research can be seen that the indicators included in the low category is Mastering the basic concepts of health and nutrition as a means of development for each field of development of children with a value of 44.44%, understand the ability of children kindergarten in every field of development 43.52%, and understand the progress of children in every field development in kindergarten 49.07%. From the results of this study can be seen that the three indicators are categorized as low compared with other indicators of professional competence.
Keywords
Professional Competence, Early Childhood Education Teacher, Siak Regency
References
Febrialismanto. 2015. Analisis kompetensi profesional guru di Taman Kanak-kanak Kecamatan Kampar Provinsi Riau. Jurnal educhild Vol 4 (1) februari 2015. 8-16
Febrialismanto. 2010. Kontribusi Kompetensi Profesional dan Kompetensi Pedagogik terhadap kinerja mengajar guru: Studi korelasional terhadap guru taman kanak-kanak kecamatan Kampar provinsi Riau. Tesis ini tidak diterbitkan. Bandung: SPS UPI Bandung
Ifat, F., Z. 2015. Penilaian Dalam Pembelajaran Anak Usia Dini. Jurnal Tunas Siliwangi. Vol 1 (1) oktober 2015. 92-111
Kunandar. 2007. Guru Profesional, Implementasi Kurikulum Tingkat Satuan Pendidikan (KTSP) dan Persiapan Menghadapi Sertifikasi Guru. Jakarta: Raja Grafindo Persada.
Masitoh dkk. 2005. Pendekatan Belajar Aktif di Taman Kanak-Kanak. Departemen Pendidikan Nasional Direktorat Jenderal Pendidikan Tinggi Direktorat Pembinaan Pendidikan Tenaga Kependidikan dan Ketenagaan Perguruan Tinggi. Jakarta: Diknas.
Pupuh, F., & Sutikno, M., S. 2007. Strategi Belajar Mengajar Melalui Penanaman Konsep Umum & Konsep Islami. Bandung: Refika Adima.
Rita, K. 2015. Pendidikan Gizi Untuk Anak Usia Dini. Jurnal educhild Vol 4 (2) September 2015: 109-114
Ria, N., & Febrialismanto. 2015. Pengaruh Penggunaan Media Mind Mapping Terhadap Kemampuan Membaca Anak Usia 5-6 Tahun di TK FKIP UNRI. Jurnal educhild Vol 4 (2) September 2015: 103-108
Sanjaya, W. 2009. Strategi Pembelajaran Berorientasi Standar Proses Pendidikan. Jakarta: Kencana Prenada Media Group.
Sukamti, E., R. 1994. Pengaruh gizi terhadap pertumbuhan dan perkembangan anak. Jurnal Cakrawala Pendidikan Nomor 3 Tahun XIII November 1994: 139-153
Syamsu, Y., L., N. 2007. Buku Materi Pokok Pedagogik Pendidikan Dasar. Bandung: Sekolah Pasca Sarjana Universitas Pendidikan Indonesia.
Yuhetty, Harina, dkk. 2009. Kajian Kompetensi Guru Dalam Meningkatkan Mutu Pendidikan. Jakarta: Bidang Mutu Pendidikan Mendiknas.
DOI:
https://doi.org/10.21107/pgpaudtrunojoyo.v4i2.3573
Refbacks
There are currently no refbacks.
Copyright (c) 2018 Febrialismanto Febrialismanto

This work is licensed under a
Creative Commons Attribution 4.0 International License
.
Diterbitkan oleh: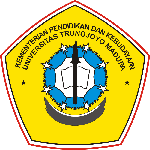 Program Studi Pendidikan Guru Pendidikan Anak Usia Dini, Fakultas Ilmu Pendidikan
Universitas Trunojoyo Madura.
Jl. Raya Telang PO BOX 2 Kamal, Bangkalan, Jawa Timur 69162
Telp. (031)3014239/ Fax. (031)3011506