Pengembangan Multimedia Pembelajaran Menggunakan Adobe Flash Mengenal Konsep dan Lambang Bilangan PAUD
Abstract
This study aims to produce multimedia products to recognize the concept and symbol of PAUD numbers are feasible to use in the learning process. The feasibility of multimedia learning in terms of material aspects, learning, display and programming with validation of material experts and media experts. In the implementation phase of feasibility in terms of attractiveness, ease of use and clarity assessed by the child. This research method is research and development method of R & D with ADDIE learning design model that is (1) Analysis (2) Design (3) Development (4) Implementation (5) Evaluation. The result of the feasibility of multimedia data obtained from the average validation of material experts is 0.90 with the category "very high" and the average media expert validation is 0.94 with the category "very high". The result of implementation in PAUD Mutiara Kasih Kebumen viewed from the aspect of attractiveness, easiness and clarity of multimedia product with the average field test result of each aspect is 93,3% with "very high" category. Based on the results of validation of material experts and media experts and field trials concluded that multimedia learning products using adobe flash CS6 program is feasible to be used in the learning process to know the concept and symbol of the numbers for early childhood.
Keywords
Learning Multimedia, Adobe Flash, ADDIE, Concept and Number Symbol
References
Asyad, A.2010. Media Pembelajaran. Jakarta: PT Raja Grafindo Persada
Gafur, A.2012. Desain Pembelajaran: Konsep, Model, Aplikasinya dalam Perencanaan Pelaksanaan Pembelajaran. Yogyakarta:Ombak.
Jamaludin dan Santosa, S. 2011. Model Pembelajaran Proses Terjadinya Hujan pada Pendidikan Anak Usia Dini (PAUD) Berbasis Multimedia. Jurnal Teknologi Informasi edisi Oktober Vol. 7 No. 2 pp154-166.
Kartika, H. 2014. Pembelajaran Matematika Berbantuan Software MATLAB sebagai Upaya Meningkatkan Kemampuan Komunikasi Matematis dan Minta Belajar Siswa SMA. Jurnal Pendidikan Uniska edisi November Vol 2 No. 1 pp 24-35.
Kharisma, R., S., Reno, K., dan Andre, C., W. 2015. Perancangan Media Pembelajaran Berhitung Berbasis Multimedia Flash. Jurnal Ilmiah DASI edisi Juni Vol. 16 No. 02 Juni pp 42-47
Sovia, R. 2011. Pembuatan Aplikasi Pembelajaran Berhitung bagi Anak Playgroup Menggunakan Metode Menghitung Gambar dengan Menerapkan Bahasa Pemrograman Macromedia Flash 8. Jurnal Teknologi Informasi & Pendidikan edisi September Vol. 4 No. 1 pp 77-82.
Sudjono, A. 2012. Pengantar Statistik Pendidikan. Jakarta: Rajawali Pers
Sugiyono.2010.Metode Penelitian Pendidikan: Pendekatan Kuantitatif, Kualitatif dan R&D. Bandung:Alfabeta.
DOI:
https://doi.org/10.21107/pgpaudtrunojoyo.v4i2.3571
Refbacks
There are currently no refbacks.
Copyright (c) 2018 Nurdiansah Dwi Sasongko

This work is licensed under a
Creative Commons Attribution 4.0 International License
.
Diterbitkan oleh: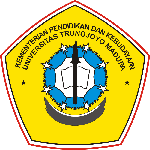 Program Studi Pendidikan Guru Pendidikan Anak Usia Dini, Fakultas Ilmu Pendidikan
Universitas Trunojoyo Madura.
Jl. Raya Telang PO BOX 2 Kamal, Bangkalan, Jawa Timur 69162
Telp. (031)3014239/ Fax. (031)3011506