Gambaran Mengenai Metode Mengajar Sesuai dan Tidak Sesuai Dikembangkan dalam Program TK
Abstract
With the increasing understanding of how young children develop and learn, there has been a greater emphasis on the education of young children. This study aims to obtain a description of appropriate and inappropriate teaching methods developed in a kindergarten program, specifically in the village of South Meruya. This research is qualitative descriptive, using interview method to teaching method of kindergarten teacher. The subjects consisted of 8 kindergarten teachers, consisting of 4 teachers of kindergarten and 4 teachers of kindergarten. The results obtained from this research are the kindergarten teachers in Meruya Selatan Village have shown appropriate teaching methods developed in the kindergarten program almost on all components except the teaching strategy component (addressing the ideas conveyed by the children), content and curriculum approach (aesthetic expression), reciprocal relationship with parents, and program policies (teacher-child ratio). 
Keywords
Teaching Method, Appropriate And Inappropriate, Kindergarten Program
References
Diadha, R. 2015. Keterlibatan Orang Tua Dalam Pendidikan Anak Usia Dini Di Taman Kanak-Kanak. Edusentris, Jurnal Ilmu Pendidikan dan Pengajaran, Vol. 2 No.1.
National Association for the Education of Young Children. 1997. Developmentally Appropriate Practice in Early Childhood Washington, D.C.: Programs Revised Edition.
Papalia, Diane E., Sally Wendkos Olds, Ruth Duskin Feldman. Human Development Perkembangan Manusia Edisi 10 Buku 1. Terjemahan oleh Brian Marswendy. 2009. Jakarta : Salemba Humanika.
Santrock, J., W. Life-Span Development Perkembangan Masa Hidup Edisi Kelima Jilid 1. Terjemahan oleh Juda Damanik, Achmad Chusairi. 2002. Jakarta : Erlangga.
Sen, A; Partelow, L., & Miller, D.C. (2005). Comparative indicators of education in the United States and other G8 countries : 2004 (NCES 2005-021). Washington, DC : National Center for Education Statistics.
Artikel : Tujuan dan Prinsip Pendidikan TK. 12 Juni 2009. Melalui : https://tunas63.wordpress.com/2009/06/12/artikel-tujuan-dan-prinsip-pendidikan-tk-2/ (28/04/16).
Dasar Penyelenggaraan Pendidikan Taman Kanak-Kanak. 07.11. Melalui http://pkgpaudjatinangor.blogspot.co.id/2013/04/dasar-penyelenggaraan-pendidikan-taman.html (06/11/15).
Inilah Rasio Ideal Guru PAUD danAnakDidik.9 Juli 2015, 14:35:42.Melalui :http://paudni.kemdikbud.go.id/berita/7099.html (29/04/16).
Mulai 2016, Wajib TK Sebelum Masuk SD. Jumat, 19 Juni 2015, 04:52:00. Melalui : http://www.jpnn.com/read/2015/06/19/310452/Mulai-2016,-Wajib-TK-Sebelum-Masuk-SD- (06/11/15).
PendidikanSeniuntuk Taman Kanak-kanak. 12 November 2010 03:32:57. Melalui :http://www.kompasiana.com/ariesrohmadi/pendidikan-seni-untuk-taman-kanak-kanak_55004193a333114a73510472 (29/04/2016).
Pengembangan Seni Di Taman Kanak-Kanak.Minggu, 30 oktober 2011.Melalui :http://kunt34.blogspot.co.id/2011/10/pengembangan-seni-di-taman-kanak-kanak.html (29/04/16).
Pengembangan Seni di Taman Kanak-Kanak (TK). 2016. Melalui :http://membumikan-pendidikan.blogspot.co.id/2015/03/pengembangan-seni-di-taman-kanak-kanak.html (29/04/16).
Pengertian TK Taman Kanak-Kanak. 2014. Melalui : http://skripsi-tarbiyahpai.blogspot.co.id/2015/01/pengertian-tk-taman-kanak-kanak.html (06/11/15).
Taman Kanak. September 2011. Melalui https://kylua.wordpress.com/pendidika/taman-kanak/ (28/04/16).
DOI:
https://doi.org/10.21107/pgpaudtrunojoyo.v4i1.3538
Refbacks
There are currently no refbacks.
Copyright (c) 2018 Yenny Yenny

This work is licensed under a
Creative Commons Attribution 4.0 International License
.
Diterbitkan oleh: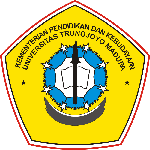 Program Studi Pendidikan Guru Pendidikan Anak Usia Dini, Fakultas Ilmu Pendidikan
Universitas Trunojoyo Madura.
Jl. Raya Telang PO BOX 2 Kamal, Bangkalan, Jawa Timur 69162
Telp. (031)3014239/ Fax. (031)3011506