Pengaruh Media Loto Warna dan Bentuk Terhadap Pemahaman Geometri Anak Kelompok B TK Dharma Wanita
Abstract
The research on child group B in TK Dharma Wanita Bulukidul Village, Balong Ponorogo Subdistrict, was motivated by low understanding of geometry. This is seen from 10 of children have not been able to distinguish geometric shapes, explain geometric features, and have not been able to show geometry. This research uses quantitative research approach with pre-experimental design type and one-group research design pre test-post test design. Research subjects amounted to 20 children. Methods of data collection using observation by means of assessment in the form of observation sheet. Data analysis using non-parametric statistics Wilcoxon signed test (wilcoxon match pairs test) with the formula t arithmetic <t table. Based on the results of data analysis of rough motor skills jumped two feet at the time of preliminary observation (pre test) and observation after treatment (post test) using traditional game of rubberan obtained average value of pre test result 11,6 and average result of post test 1 , 75. The result of calculation with ladder test obtained t count = 1.5 smaller than t table = 52 and decision making result that is: Ha accepted because t count <t table (1,5 <52) and Ho rejected because t count> t table ( 1.5> 52). The conclusion of the research shows that the media of color and shape shapes have a significant effect on the geometry understanding of group B children in TK Dharma Wanita Desa Bulukidul Kecamatan Balong Ponorogo.
Keywords
Lotto colour Media, understanding geometry, early childhood
References
Ahmad Susanto, 2011. Perkembangan anak usia dini pengantar dalam berbagai aspeknya, Jakarta: Kencana.
Arikunto, Suharsimi. 2006. Prosedur Penelitian Suatu Pendekatan Praktek. Jakarta: Rineka Cipta.
Arikunto, Suharsimi. 2010. Prosedur Penelitian Suatu Pendekatan Praktek. Jakarta: Rineka Cipta.
Arsyad, Azhar. 2011. Media Pembelajaran. Jakarta: Rajagrafindo Persada.
Chirstopher T. Cross, Taniesha A. Wood, and Heidi Schweingruber, Op.Cit.
Claudia E'liason, Ioa Jenkins, A Pratical Guide to Early Childhood Education Curriculum, (Pearson: 2008),
Diane Trister Dodge and Laura J. Cholker, The Creative Curruculum for early childhood, (Washington DC 2000),
Eliyawati, cucu. 2005. Pemilihan dan Pengembangan Sumber Belajar Untuk Anak Usia Dini. Jakarta: Universitas Terbuka.
Hilda L. Jacman, Op.Cit.Jo An Brewer, Early Childhood Education Preschool through primary grades (A pearson education Inc, 2007)
John A. Van De Walle,. Sekolah Dasar dan menengah Matematika pengembangan pengajaran Jilid 2, (Jakarta: Erlangga, 2008),
John W Santrock, Perkembangan anak Jilid 1 (Jakarta: Erlangga, 2007)
K. Eileen Allen, Lynn R. Marotz, Profil perkembangan anak; prakelahiran hingga usia 12 tahun, (Jakarta; Indeks, 2010)
Martini Jamaris, Perkembangan dan pengembangan Anak Usia Taman Kanak-kanak, (Jakarta: PT. Grasindo, 2006),
Nazir. 2009. Metode Penelitian. Jakarta: Ghalia Indonesia.
Rosalind Charlesworth and K. Lind, op. Cit.,
Santrock, John. 2007. Perkembangan Anak. Jakarta: Erlangga.
Sugiyono. 2010. Metode Penelitian Kuantitatif Kualitatif dan R & D. Bandung: Alfabeta.
Sujiono, Yuliani Nurani. 2009. Konsep Dasar Pendidikan Anak Usia Dini. Jakarta: Indeks.
Wahyudi, dan Retna Damayanti. 2005. Program Pendidikan Untuk Anak Usia Dini di Prasekolah Islam. Jakarta: Gramedia Widiasarana.
DOI:
https://doi.org/10.21107/pgpaudtrunojoyo.v3i2.3492
Refbacks
There are currently no refbacks.
Copyright (c) 2018 Ratna Nila Puspitasari

This work is licensed under a
Creative Commons Attribution 4.0 International License
.
Diterbitkan oleh: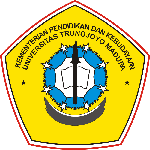 Program Studi Pendidikan Guru Pendidikan Anak Usia Dini, Fakultas Ilmu Pendidikan
Universitas Trunojoyo Madura.
Jl. Raya Telang PO BOX 2 Kamal, Bangkalan, Jawa Timur 69162
Telp. (031)3014239/ Fax. (031)3011506