Pengaruh Bermain Peran Terhadap Peningkatan Kemampuan Sosial Anak Usia Dini
Abstract
Many parents, teachers and the public assume that kindergarten is the only institution to prepare children entering elementary school. Thus, the learning process is limited to the development of the ability to read, write, and count, so the chance of improving social skills neglected. Social skills in children needs to be extracted and grown by improving materials and teaching methods provided by the teacher. Playing the role of a learning method that provides opportunities for children to develop imagination, as well as practicing socialize, communicate and empathize with other children. Research aims: 1). To know the difference between a child social skill play a role given treatment and children who were not given the treatment play a role; 2). To know how to play the role and influence of not playing the role of the social skills of children. Quantitative approach to the type of quasi-experimental study (quasi). The research sample of 40children TK B Aisyiyah 6 Tanggulangin. Results showed treatment play a role and given treatment without playing the role Mann-Whitey U Value of 1000 and Wilcoxon W value of 211,00, significance value of 0,000. Because the probability value is much smaller than the significance level of 0,05 or (0,000 < 0,05), then the experimental group with treatment play a role much better than the untreated control group plays the role of the social skills of early childhood.
Keywords
Play a Role; Social Skills; Early Childhood
References
Amstrong, T. (2002). Menerapkan Multiple Intelligences di Sekolah, (alih bahasa Yudhi Murtanto). Batam Center: Interaksara.
Amstrong, T. (2004). Kamu itu Lebih Cerdas daripada yang Kamu Duga; Panduan Menuju Multipel Intelinjensi Bagi Anak-Anak, (alih bahasa Arvin Saputra), Bandung: Kaifa.
Dariyo, A., (2007). Psikologi Perkembangan; Anak Tiga Tahun Pertama. Bandung: Refika Aditama.
Gardner, H. (2003). Multiple Intelligences; Kecerdasan Majemuk Teori dalam Praktek, (alih bahasa Alexander Sinroro). Batam Center: Interaksara
Goleman, D. (2005). Working With Emotional Intelligence; Kecerdasan Emosi untuk Mencapai Puncak Prestasi. (alih bahasa Alex Tri Kantjono Widodo). Jakarta: Gramedia Pustaka Utama.
Hirsh, K., (2005). Einstein Never Used Flash Cards. Bandung: Kaifa.
Hurlock, E. B. (1988). Perkembangan Anak. Jilid 1. Jakarta: Erlangga.
Hurlock, E. B. (1988). Perkembangan Anak. Jilid 2. Jakarta; Erlangga.
Jamaris, M. (2006). Perkembangan dan Pengembangan Anak Usia Taman Kanak-Kanak; Pedoman Bagi Orang Tua dan Guru. Jakarta: Grasindo.
Kostelnik, M.J, dkk. (2007). Developmentally Appropriate Curriculum Best Practices In Early Chilhood Education. United States: Pearson Prentice Hall.
Masitoh. (2006). Strategi Pembelajaran TK. Jakarta: Universitas Terbuka.
Moeslichatoen, R .(2004). Metode Pengajaran Di Taman Kanak-Kanak. Jakarta: Rineka Cipta.
Montolalu, B.E.F. (2007). Bermain dan Permainan Anak. Jakarta: Universitas Terbuka.
Schmidt, L. (2003). Jalan Pintas Menjadi 7 Kali Lebih Cerdas; 50 Aktivitas, Permainan dan Prakarya untuk Mengasuh 7 Kecerdasan Mendasar Pada Anak. Bandung: Kaifa
Sugiyono. (2005). Memahami Penelitian Kualitatif. Bandung: Alfabeta.
Musfiroh, T. (2008). Cerdas Melalui Bermain (Cara mengasah Multiple Inteligence pada Anak Sejak Usia Dini). Jakarta: PT. Grasindo.
Tedjasaputra, M.S. (2001). Bermain, Mainan dan Permainan. Jakarta: Grasindo
DOI:
https://doi.org/10.21107/pgpaudtrunojoyo.v1i1.3474
Refbacks
There are currently no refbacks.
Copyright (c) 2014 Choirun Nisak Aulina

This work is licensed under a
Creative Commons Attribution 4.0 International License
.
Diterbitkan oleh: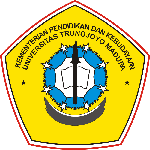 Program Studi Pendidikan Guru Pendidikan Anak Usia Dini, Fakultas Ilmu Pendidikan
Universitas Trunojoyo Madura.
Jl. Raya Telang PO BOX 2 Kamal, Bangkalan, Jawa Timur 69162
Telp. (031)3014239/ Fax. (031)3011506