PENINGKATAN KECERDASAN KINESTETIK MELALUI KEGIATAN BERMAIN SIRKUIT DENGAN BOLA (Penelitian Tindakan di Kelompok A TK Al Muhajirin Malang Jawa Timur, Tahun 2015)
Abstract
Increase Kinesthetic Intelligence Through Play Activities Circuit With Ball. The purpose of this research was to determine the process of implementation of the circuit with a ball playing in increasing child kinesthetic intelligence in group A in Al Muhajirin Kindegarten Malang and to know the extent to which the results of the increase in child kinesthetic intelligence through a circuit with a ball playing in group A Al Muhajirin Kindegarten Malang.The method used in this research is an action research which refers to the model of a Classroom Action Research Kemmis and Mc. Taggart consist of four phase: planning, action, observation and reflection. This research consist of two cycles, each cycle consist of 8 times in actions. Analysis of the data used quantitative and qualitative approaches. The results showed an increase kinesthetic intelligence through circuits with a ball playing activities, it can be proven scoring average pre-action children's kinesthetic intelligence by 32.81%. And then increased in the first cycle by 37.44% to become 70.25%. Furthermore, from the first cycle to the second cycle kinesthetic intelligence of children increased by 17.91% from 70.25% to 88.16%. So the total increase kinesthetic intelligence of children ranging from pre-action, the first cycle to the second cycle is 32.81% 70.25% to 88.16%.
References
Amstrong, T. (2002). 7 Kinds of Smart. Menemukan dan Meningkatkan Kecerdasan Anda Berdasarkan Teori Multiple Intelligence. Jakarta: Gramedia Pustaka Utama
Arikunto, S. (2013). Prosedur Penelitian Suatu Pendekatan Praktik. Jakarta: PT. Rineka Cipta.
Comyns, T. Circuit Training Development Of Strenght & Conditioning,Coaching Ireland (Ireland, The Lucozade Sport Education Programme). (online). http://www.coachingireland.com/files/icuit_training.pdf, diakses pada 24 Oktober 2014).
Devianti, A. (2013). Panduan Lengkap Mencerdaskan Otak Kanan Usia 1-6 Tahun. Yogyakarta: Araska.
Gardner, H. (1983). Frame of Mind The Theory of Multiple Intelligence. Amerika: basic books.
------. (2003). Multiple Intelligence, Kecerdasan Majemuk Teori dalam Praktek, A. Reader. Batam: Interaksara.
Handini, M., C. (2012). Metode Penelitian Untuk Pemula. Jakarta: FIP Pres.
Harsono. (1988). Coaching dan Aspek-Aspek Dalam Coaching. Jakarta: Departemen Pendidikan dan Kebudayaan.
Mills, G., E. (2003). Action Research a Guide For The Theacher Researcher Second Edition. United State: Merrill Prentice Hall.
Moeslichatoen. (2004). Metode Pengajaran di Taman Kanak-Kanak. Jakarta: Rineka Cipta.
Mutiah, D. (2010). Psikologi Berrmain Anak Usia Dini. Jakarta: Kencana Prenada Media Group.
Mutohir, T., C & Gusril. (2004). Perkembangan Motorik pada Masa Anak-Anak. Jakarta: Depdiknas.
Tedjasaputra, M., S. (2010). Bermain, Mainan dan Permainan untuk Pendidikan Usia Dini. Jakarta: Grasindo.
Widiastuti. (2011). Tes dan Pengukuran Olahraga. Jakarta: PT. Bumi Timur Jaya.
Yaumi, M., & Nurdin, I. (2013) . Pembeajaran Berbasis Kecerdasan Jamak (Multiple Intelligences). Jakarta: Kencana Prenadamedia Group.
DOI:
https://doi.org/10.21107/pgpaudtrunojoyo.v2i1.1821
Refbacks
There are currently no refbacks.
Copyright (c) 2016 Denok Dwi Anggraini

This work is licensed under a
Creative Commons Attribution 4.0 International License
.
Diterbitkan oleh: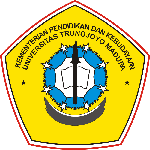 Program Studi Pendidikan Guru Pendidikan Anak Usia Dini, Fakultas Ilmu Pendidikan
Universitas Trunojoyo Madura.
Jl. Raya Telang PO BOX 2 Kamal, Bangkalan, Jawa Timur 69162
Telp. (031)3014239/ Fax. (031)3011506