PENGGUNAAN METODE DEMONSTRASI UNTUK MENINGKATKAN KEMAMPUAN MOTORIK KASAR ANAK USIA TAMAN KANAK-KANAK
Abstract
Use Demonstration Method to Improve Gross Motor Skills of Children Ages Kindergarten. Learning in Kindergarten (TK) is learning that emphasizes play activities while learning and learn while playing. The purpose of this research is to improve gross motor skills kindergarten-age-children  through method demonstration. The study involved 22 kindergarten-age-children from  TK Putra Harapan Desa Kedondong, Kecamatan Kebonsari, Kabupaten Madiun who are in Group A. The study is divided into two cycles, the first cycle through the cat jumps mimicked by using demonstrations, children show a success rate reached 66%. In the second cycle activity mimicked the cat jumps, using the method of demonstration and told the child to demonstrate each one was more to improve gross motor skills. This is evident in the chart success of the children value reached 89%. Thus the demonstration method to improve gross motor skills can be applied to kindergarten-age-children.
References
Papalia, D., E., Olds, S., W., & Feldman, R., D. (2002). A Child's World : Infancy
Through Adolescence. Boston : McGraw Hill
Permendiknas No. 58 tahun 2009 tentang Standar Pendidikan Anak Usia Dini. Direktorat Pembinaan TK dan SD
Sujiono, B. (2008). Metode Pengembangan Fisik. Jakarta : Universitas Terbuka
DOI:
https://doi.org/10.21107/pgpaudtrunojoyo.v2i1.1807
Refbacks
There are currently no refbacks.
Copyright (c) 2016 Yudho Bawono, Susana Wahidah

This work is licensed under a
Creative Commons Attribution 4.0 International License
.
Diterbitkan oleh: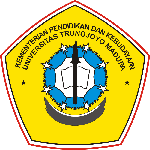 Program Studi Pendidikan Guru Pendidikan Anak Usia Dini, Fakultas Ilmu Pendidikan
Universitas Trunojoyo Madura.
Jl. Raya Telang PO BOX 2 Kamal, Bangkalan, Jawa Timur 69162
Telp. (031)3014239/ Fax. (031)3011506