Jurnal Ilmiah Pangabdhi, published by the Institute of Research and Community Service, University of Trunojoyo, Madura. It's a biannual refereed journal concerned with the practice and processes of community engagement. It provides a forum for academics, practitioners and community representatives to explore issues and reflect on practices relating to the full range of engaged activity. This journal is a peer-reviewed online journal dedicated to the publication of high-quality research focused on research, implementation.
The mission of Jurnal Ilmiah Pangabdhi is to serve as the premier peer-reviewed, interdisciplinary journal to advance theory and practice related to all forms of outreach and engagement. This includes highlighting innovative endeavors; critically examining emerging issues, trends, challenges, and opportunities; and reporting on studies of impact in the areas of public service, outreach, engagement, extension, engaged research, community-based research, community-based participatory research, action research, public scholarship, service-learning, and community service.
Jurnal Ilmiah Pangabdhi published twice in a year, April and October.
Aims and Scope
Jurnal Ilmiah Pangabdhi aims to provide a forum for international researchers on applied Society Development and Engagement to publish the original articles.
The scope is Society Development and Engagement.
This journal contains research-based community service results such as PAR (Participatory Action Research), ABCD (Asset-Based Community Development), CBR (Community-Based Research), Service Learning, Community Development, and other methodologies.
To submit your article to Jurnal Ilmiah Pangabdhi ;
We proudly announce that Jurnal Ilmiah Pangabdhi has indexed by Google Scholar, Portal Garuda, Dimensions, etc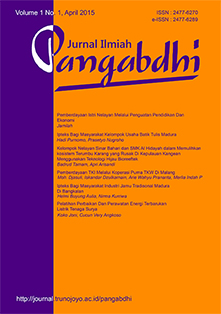 Announcements
No announcements have been published.
Vol 9, No 2: Oktober 2023
Table of Contents
Articles
| | | |
| --- | --- | --- |
| | I G. N Oka Ariwangsa, Ni Putu Mia Apriliani, Kadek Wulandari Laksmi, Komang Satria Wibawa Putra | 70-75 |
| | | |
| --- | --- | --- |
| | Imam Choiruddin, Kurnia Firdatuzzaifa, Siti Nur Vadillah | 76-81 |
| | | |
| --- | --- | --- |
| | Rizma Olivia, Taufik Rizal Dwi Adi Nugroho, Erika Selvia, Hoirun Nisak, Rafly Mahendra Putra, Rizky Dwi Anggraini, Tri Lestari Marista | 82-89 |
| | | |
| --- | --- | --- |
| | Feerzet Achmad, Darma Setiawan, Ikhwan Hukama, Lisnurani Lisnurani, Reni Yuniarti, Suhartono Suhartono, Suharto Suharto | 90-95 |
| | | |
| --- | --- | --- |
| | Syahmidarni Al Islamiyah, Margaretha Hanna Tiffany, Indrastuti Indrastuti | 96-100 |
| | | |
| --- | --- | --- |
| | Tri Handayani Amaliah, Ayu Rakhma Wuryandini, Siti Pratiwi Husain | 101-108 |
| | | |
| --- | --- | --- |
| | Yushinta Arsitina Sanjaya, Ulya Sarofa, Ahmad Suyuti, Erika Widianti, Aidha Safa Asy'ari | 109-113 |
| | | |
| --- | --- | --- |
| | Adinda Nuril Qomariyah, Aprilia Putri, Siti Rahmaniah, Eka Nurrahema Ning Asih | 114-120 |
| | | |
| --- | --- | --- |
| | Hanik Malichatin, Dody Rahayu Prasetyo | 121-125 |
| | | |
| --- | --- | --- |
| | Nur Azzatul Amaliyah, Anugerah Dany Priyanto | 126-131 |
| | | |
| --- | --- | --- |
| | Amanatuz Zuhriyah, Mustika Tripatmasari, Haryo Triadjie, Slamet Widodo | 132-138 |
| | | |
| --- | --- | --- |
| | Faradilah Farid Karim, Fitri Indhasari, Andi Irmayanti Idris, Muhammad Arhim | 139-144 |
| | | |
| --- | --- | --- |
| | Rakhmat Dwi Pambudi, Amalia Salsa Sumaga, Anis Fitria Wijayanti, Laily Tasya Islami | 145-151 |
| | | |
| --- | --- | --- |
| | Arif Zunaidi, Rifdah Nazilatul Rizqiyyah, Fika Kemala Nikmah, Fachrial Lailatul Maghfiroh | 159-165 |
| | | |
| --- | --- | --- |
| | Augustine Sem Porak Tangkeliku, Sulistyowati Irianto | 166-174 |
| | | |
| --- | --- | --- |
| | Herman Oddyansyah Felani, Sukmo Hadi Nugroho | 175-183 |
| | | |
| --- | --- | --- |
| | Oky Arif Ferdiansyah, Sukmo Hadi Nugroho | 184-194 |
| | | |
| --- | --- | --- |
| | Dwi Saptono, Romy Hermawan, Adi Bandono | 195-203 |
| | | |
| --- | --- | --- |
| | Novalina Serdiati, Nasmia Nasmia, Made Antara, Akbar Marzuki Tahya, Muhammad Safir | 204-208 |