Agriekonomika is published twice a year in April and October containing articles result of thought and research in social, economic and policy of agriculture in general. With registered number ISSN: 2301-9948, ISSN: 2407-6260 (Online).
This journal encompasses original research articles, review articles, and short communications, including: Agribusiness, Agriculture, Agriculture Economics, Social Science, Rural Development, Rural Sociology, Risk Management, Agriculture Extension, Financial Management, Marketing Management, Human Resource Management, Corporate Governance, Strategic Management, Entrepreneurship.
Agriekonomika has been accredited as a scientific journal by the Ministry of Research-Technology and Higher Education Republic of Indonesia: No. 23/E/KPT/2019
In the next year publication (2019), Agriekonomika will publish in two times issues: April and Oktober. Please submit your manuscript.
Please check Agriekonomika 

article 2012

-2019 HERE


Please check the Author Guidelines and sent your manuscript HERE
Please Download Template HERE
Agriekonomika, with registered number ISSN: 2301-9948, ISSN (online): 2407-6260 have been indexed in: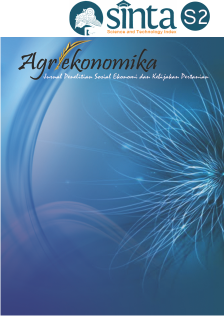 Announcements
Agriekonomika Accepted Language

To improve the reputation of Agriekonomika in international research and to increase the citation of articles published in Agriekonomika by foreign researchers, since Volume 11 Number 02 October 2022 Agriekonomika only accepts English-language manuscripts.
Posted: 2022-08-09
Vol 11, No 2: October 2022
Table of Contents
Artikel
| | | |
| --- | --- | --- |
| | Setiani Setiani, Eko Setiawan, Wen-Chi Huang | 76-86 |
| | | |
| --- | --- | --- |
| | Muh Syarif, Samsuki Samsuki, Achmad Amzeri, Zainul Azmi | 87-97 |
| | | |
| --- | --- | --- |
| | Ernawati Hamid, Mirawati Yanita, Zulkifli Alamsyah | 98-105 |
| | | |
| --- | --- | --- |
| | Asnah Asnah, Pati Huka Melfinsius, Gunawan Indra Cakti | 106-114 |
| | | |
| --- | --- | --- |
| | Linda Tri Wira Astuti, Diana Sofia Huitron Flores, Iman Arman, Herawati Herawati, Yenny Laura Butarbutar | 115-129 |
| | | |
| --- | --- | --- |
| | Teti Sugiarti, Nurul Arifiyanti, Meidiana Purnamasari, Wen Chi Huang | 130-139 |
| | | |
| --- | --- | --- |
| | Muslim Salam, Rafiqah Maulidiyah, Achmad Amiruddin, Pipi Diansari, Ahmad Imam Muslim | 140-150 |
| | | |
| --- | --- | --- |
| | Albertus Girik Allo, Marcus R Maspaitella, Sisilia Maria Parinusa, Deasi Mayawati | 151-164 |
| | | |
| --- | --- | --- |
| | Timbul Rasoki, Ana Nurmalia, Lina Asnamawati | 165-184 |
| | | |
| --- | --- | --- |
| | Campina Illa Prihantini, Yusriani Rizqy, Nursalam Nursalam, Yuli Purbaningsih, Dennis Mark Onuigbo | 185-196 |