REKAYASA is the Journal of Science and Technology by the Institute for Research and Community Service of University of Trunojoyo Madura, 2 times a year (April and October). With registered number ISSN 0216-5325 (Print), ISSN 2502-5325 (Online)
This journal has been accredited by National Journal Accreditation (ARJUNA) Managed by Ministry of Research, Technology, and Higher Education, Republic Indonesia since year 2016 to 2020 according to the decree No. 21/E/KPT/2018. 
This journal encompasses original research articles, review articles, and short communications, including: Science and Technology,
In the the next year publication, Rekayasa will publish in two times issues: April and Oktober. Please submit your manuscript.


    Please check Rekayasa Archives (2008-Now) HERE
    Please check the Author Guidelines and sent your manuscript HERE
    Please Download Template HERE
Published by:
Lembaga Penelitian dan Pengabdian Kepada Masyarakat
Universitas Trunojoyo Madura
Jl. Raya Telang, Kamal - Bangkalan 69162
Mail: rekayasa@trunojoyo.ac.id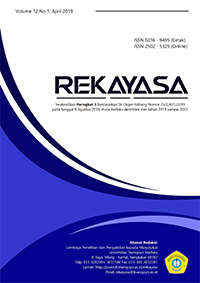 Announcements
No announcements have been published.
Vol 11, No 2: Oktober 2018
Table of Contents
Articles
| | | |
| --- | --- | --- |
| | Maftuch Maftuch, Heny Suprastyani, Ellana Sanoesi, Gede A. A. K. Putra, Mirsa F. Putra, Asep A. Prihanto | 87-94 |
| | | |
| --- | --- | --- |
| | Sofiyanurriyanti Sofiyanurriyanti | 104-109 |
| | | |
| --- | --- | --- |
| | Millatul Ulya, Khoirul Hidayat | 110-117 |
| | | |
| --- | --- | --- |
| | Noorman Rinanto, Mohammad Thoriq Wahyudi, Agus Khumaidi | 118-131 |
| | | |
| --- | --- | --- |
| | Miftahul Ulum, Muhammad Fuad Fauzul Mu'tamar, Asfan Asfan | 132-145 |
| | | |
| --- | --- | --- |
| | Teguh Arifianto, Qonita Syarif Nurullah, Mohammad Aries Syufagi | 146-152 |
| | | |
| --- | --- | --- |
| | Indah Wahyuni Abida, Sri Andayani, Uun Yanuhar, Hardoko Hardoko | 163-170 |
| | | |
| --- | --- | --- |
| | Ii Munadhif, Adianto Adianto, Ari Afrizal Mustofa | 171-183 |