REKAYASA JOURNAL is the Journal of Sains and Technology by the Institute for Research and Community Service of University of Trunojoyo Madura, 2 times a year (April and October). With registered number ISSN 0216-5325 (Print), ISSN 2502-5325 (Online)
This journal encompasses original research articles, review articles, and short communications, including: Science and Technology,
In the the next year publication (2017), Rekayasa will publish in two times issues: April and Oktober. Please submit your manuscript.


    Please check Rekayasa Archives (2008-Now) HERE
    Please check the Author Guidelines and sent your manuscript HERE
    Please Download Template HERE
Published by:
Institue for Research and Community Services
Universitas of Trunojoyo, Madura
Jl. Raya Telang, Kamal - Bangkalan 69162
Mail: rekayasa@trunojoyo.ac.id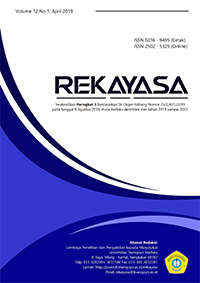 Announcements
No announcements have been published.
Vol 11, No 1: April 2018
Table of Contents
Articles
| | | |
| --- | --- | --- |
| | Dwi Budi Wiyanto, Dyah Ayu Sulistiorini | 1-10 |
| | | |
| --- | --- | --- |
| | Sofiyanurriyanti Sofiyanurriyanti | 11-18 |
| | | |
| --- | --- | --- |
| | Zainul Hidayah, Okol Sri Suharyo | 19-30 |
| | | |
| --- | --- | --- |
| | Suparno Suparno, Roikhan Roikhan, Nurul Hamidah | 31-36 |
| | | |
| --- | --- | --- |
| | Eko Alfin Tirtana, Wahyu Andy Nugraha | 37-45 |
| | | |
| --- | --- | --- |
| | Anik Rufaid, Mohamad Iqbal Vidianto | 46-52 |
| | | |
| --- | --- | --- |
| | Ahmad Faris Suparno, Insafitri Insafitri, Agus Romadhon | 53-59 |