Jurnal Pamator, published by the Institute of Research and Community Service, University of Trunojoyo, Madura. Jurnal Pamator has accredited Minister of Education, Culture, Research, And Technology based on letter Notification of Scientific Journal Accreditation Results Period III 2022 Number 0041/E5.3/HM.01.00/2023 Date 28th January 2023 with ratings SINTA 3. It's a biannual refereed journal concerned with the practice and processes of social and humanities. It provides a forum for academics, practitioners and community representatives to explore issues and reflect on practices relating to the full range of engaged activity. This journal is a peer-reviewed online journal dedicated to the publication of high-quality research focused on research and best pratices.
The mission of Jurnal Pamator is to serve as the premier peer-reviewed, interdisciplinary journal to advance theory and practice related to all forms of social science. This includes highlighting innovative endeavors; critically examining emerging issues, trends, challenges, and opportunities; and reporting on studies of impact in the areas of social sciences and humanities.
Jurnal Pamator published three times in a year, April, August, and December.
Aims and Scope
Jurnal Pamator aims to provide a forum for international researchers on applied social sciences to publish the original articles.
The scope of this journal is the study of regional development from a legal, economic, and educational perspective.
To submit your article to Jurnal Pamator;
We proudly announce that Jurnal Pamator has indexed by Google Scholar, Portal Garuda, Dimensions, etc
Publisher:
Lembaga Penelitian dan Pengabdian kepada Masyarkat Universitas Trunojoyo Madura
Gedung Graha Utama Lt. 1 Jl. Raya Telang, Kamal, Bangkalan, Indonesia
Laman : https://journal.trunojoyo.ac.id/pamator
e-mail : pamator@trunojoyo.ac.id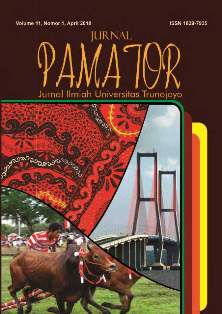 Announcements
Jurnal Pamator : Terms And Conditions Update

Dear colleague,

We have some news:

Please do not hesitate to contact us for further information about this.

Once again, thank you for the continuing interest in our work,

Best regards,

Posted: 2023-02-15
Vol 16, No 3: July - September 2023
Table of Contents
Research Article
| | | |
| --- | --- | --- |
| | Ricky Thio, Rio Christiawan | 435-453 |
| | | |
| --- | --- | --- |
| | Nurul Husna, Muhammad Habibi Siregar | 454-476 |
| | | |
| --- | --- | --- |
| | Dias Wahyu Ramdani, Krishna Kusumahadi | 477-491 |
| | | |
| --- | --- | --- |
| | Imam Santoso, Ratna Indrawati, Sukmo Hadi Nugroho | 492-508 |
| | | |
| --- | --- | --- |
| | Priyono Tri Febrianto, Irena Yolanita Maureen, Bachtiar Sjaiful Bachri | 509-526 |
| | | |
| --- | --- | --- |
| | Trisya Afrilya Suryadi, Krishna Kusumahadi | 527-548 |
| | | |
| --- | --- | --- |
| | Suriyanti Suriyanti, Muaz Tanjung | 549-563 |
| | | |
| --- | --- | --- |
| | Selvia Rachmawati, Rita Ambarwati, Herlinda Maya Kumala Sari | 564-577 |
| | | |
| --- | --- | --- |
| | Muhamad Irfan Florid, Nandang Sambas | 578-589 |
| | | |
| --- | --- | --- |
| | Rahmad Rahandi Nasution, Hilda Rossieta | 590-607 |
| | | |
| --- | --- | --- |
| | Atika Kusuma Dewi | 608-619 |
| | | |
| --- | --- | --- |
| | Gusti Muhammad Farhan, Endy Gunanto Marsasi | 620 - 631 |
| | | |
| --- | --- | --- |
| | Muhammad Rif'an Syadali, Nur Asnawi, Parmujianto Parmujianto | 632-642 |
| | | |
| --- | --- | --- |
| | Sri Wahyuni, Nurbaiti Nurbaiti, Nur Ahmadi Bi Rahmani | 643-660 |
| | | |
| --- | --- | --- |
| | Muhammad Alfin Yusra, Erna Sulistyowati | 661-673 |