DOI: https://doi.org/10.21107/mediatrend
Economic Development Program provides a platform for researchers who want to publish their research results through "MEDIATREND", the periodical Journal of economic studies and development studies. Journal "MEDIATREND" published two (2) times a year in March and October and can be accessed online.
This journal encompasses original research articles, review articles, and short communications, including: Development Planning, Regional Economics, Public Economics, Moneter, Rural Development And Agricultural, Fiscal, Shari'ah Economics, Public Policies, Institutional Economics, Industrial Economics, ESDM & ESDA, International Economics.
In the the next year publication (2016), Media Trend will publish in two times issues: March and October. Please submit your manuscript.
Please check Media Trend article 2012-2016 HERE


Please check the Author Guidelines and sent your manuscript HERE
Please Download Template HERE
Media Trend, with registered number P-ISSN: 1858-1307, e-ISSN: 2460-7649 have been indexed on: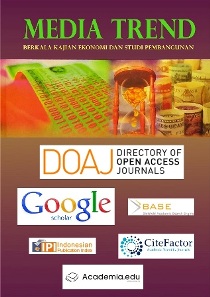 Announcements
No announcements have been published.
Vol 18, No 1 (2023): MARET
Table of Contents
| | | |
| --- | --- | --- |
| | Della Hardyati Prabowo, Ghozali Maski, Dwi Budi Santoso | 1-16 |
| | | |
| --- | --- | --- |
| | Sulistyowati Sulistyowati, Achmad Yasin, Achmad Zarkoni | 17-29 |
| | | |
| --- | --- | --- |
| | Muhammad Fauzan, Ignatia Martha Hendrati | 30-40 |
| | | |
| --- | --- | --- |
| | Muhammad Ali Nuruddin, Muslich Anshori, Imron Mawardi | 41-53 |
| | | |
| --- | --- | --- |
| | Izaac Tonny Matitaputty, Terezia Valency Pattimahu, Sartika Ode, M Sangadji | 54-63 |
| | | |
| --- | --- | --- |
| | Ayu Eliana, Endang Endang | 64-77 |
| | | |
| --- | --- | --- |
| | Agung Nur Prastiyo, Emanuel Kristijadi | 78-89 |
| | | |
| --- | --- | --- |
| | Sarah Dien Hawa, Ahmad Syauqi, Rolisnawati Rolisnawati, Haydar Za'im Akbar | 90-101 |
| | | |
| --- | --- | --- |
| | Devita Prinanda, Haryo Prasodjo | 102-119 |
| | | |
| --- | --- | --- |
| | Yuliana Cintya Jinus, Burhanudin Burhanudin | 120-132 |
| | | |
| --- | --- | --- |
| | Winadinata Grace Angelina Wijaya, Sri Widayanti, Nisa Hafi Idhoh Fitriana | 133-144 |
| | | |
| --- | --- | --- |
| | Hendri Dony Hahury, Ariviana L Kakerissa, Fredy H Louhenapessy | 145-163 |
| | | |
| --- | --- | --- |
| | Jacobus Cliff Diky Rijoly, Desry Jonelda Louhenapessy, Jodi Aleksander Panggabean | 164-177 |
| | | |
| --- | --- | --- |
| | Ambariyanto Ambariyanto, Muslich Anshori, Imron Mawardi, R Moh Qudsi Fauzi | 178-190 |
| | | |
| --- | --- | --- |
| | Agung Bayu Murti, Erma Tri Wahyuningdyah | 191-202 |