DOI: https://doi.org/10.21107/jsmb
Jurnal Studi Manajemen Dan Bisnis (JSMB) ISSN: 2460-3775 (Online) dan ISSN: 2355-9543 (Print) administered by the Master of Management Faculty of Economics and Business, University of Trunojoyo Madura. The journal publishes issues every  June and December. This journal is here to accommodate innovative thinking of academics, researchers and practitioners in the publishing of scientific papers have been produced, both the study of theory and research. Through innovative thinking, the expected scientific developments, especially in the field of Management and Business can be achieved.
This journal focuses on topics: Management and  Business. 
Jurnal Studi Manajemen Dan Bisnis (JSMB) has been accredited as a scientific journal by the Ministry of Research-Technology and the Higher Education Republic of Indonesia: SK-Akreditasi Nomor 85/M/KPT/2020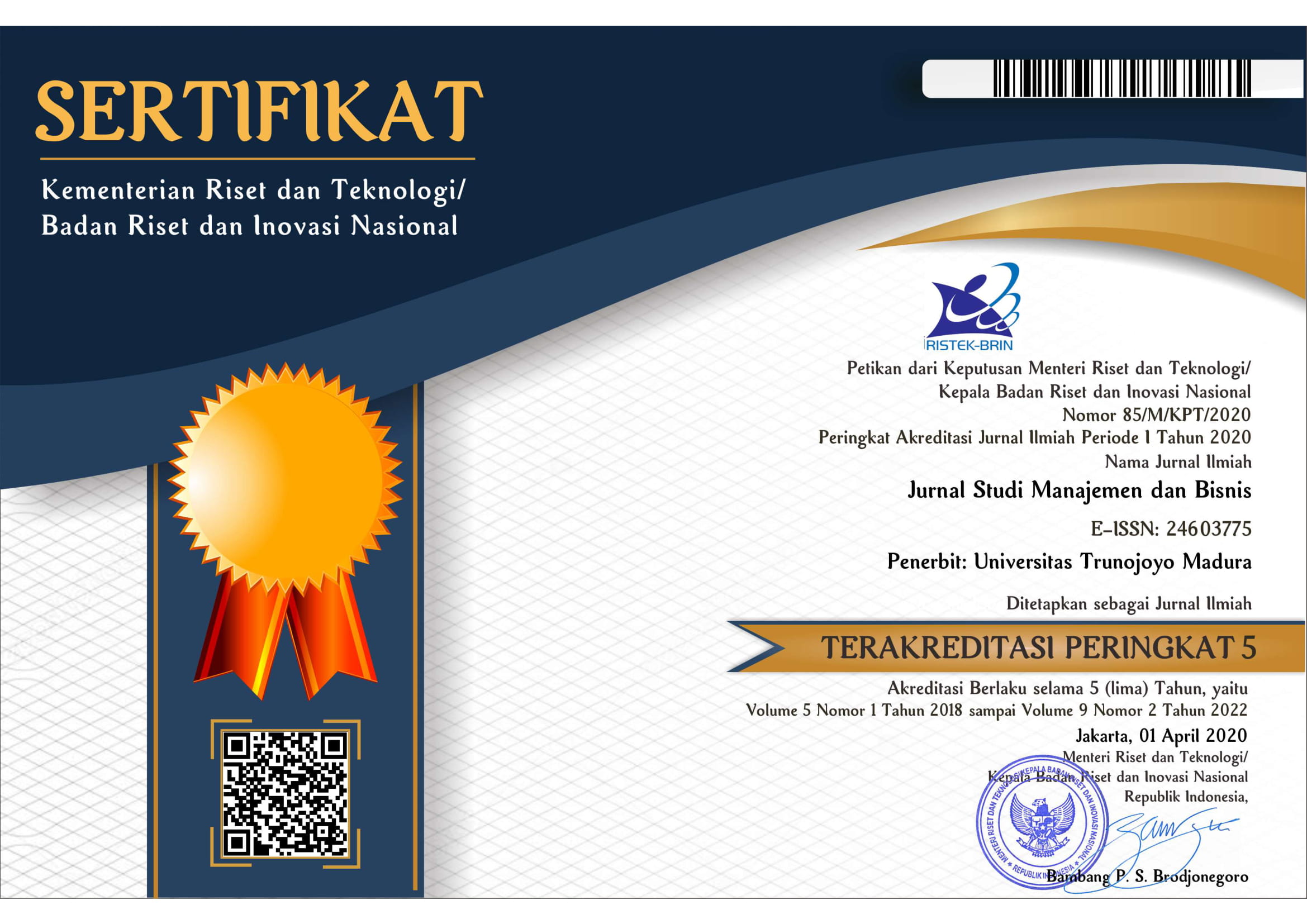 Call for Paper
Jurnal Studi Manajemen Dan Bisnis (JSMB) invites academics, practitioners, researchers to send manuscripts of research results in the fields of Management and Business for publication:
Vol 9(2) December 2022
.
The manuscript is original works, has never been published/published in journals/proceedings, or is not in the process of being reviewed in other journals or proceedings.
Scope: corporate governance, human resources, strategic management, entrepreneurship, marketing management, the Management information system, financial management, decision analysis, research management.
Publisher:
Master of Management
Faculty of Economic and Bussiness
University of Trunojoyo Madura
Jl. Raya Telang, Kamal - Bangkalan Postal Code 69162
email: jsmb@trunojoyo.ac.id
Indexed by: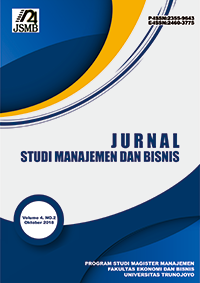 Announcements
No announcements have been published.
Vol 10, No 1 (2023): Juni
Table of Contents
Articles
| | | |
| --- | --- | --- |
| | Chrisna Nuraisyiah, Henndy Ginting | 1-8 |
| | | |
| --- | --- | --- |
| | Nahdiya Asna, Rini Fitriani, Mashudi Mashudi | 9-18 |
| | | |
| --- | --- | --- |
| | Pera Wibowo Putro, Muhammad Yoga Aditia, Agus Eko Sujianto, Mashudi . | 19-31 |
| | | |
| --- | --- | --- |
| | Kelvin Kelvin, Santi Novani | 32-41 |
| | | |
| --- | --- | --- |
| | Catur Wahyono, Malta Anantyasari | 42-49 |
| | | |
| --- | --- | --- |
| | Astrid Iryana Fitri, Donald Crestofel Lantu | 50-58 |
| | | |
| --- | --- | --- |
| | Wahyu Prabawati Putri Handayani, Didik Joko Pitoyo, Dyah Kurniawati | 59-66 |
| | | |
| --- | --- | --- |
| | Ronald Cahaya Perdana Sihombing, Nila Armelia Windasari | 67-78 |
| | | |
| --- | --- | --- |
| | Adipura Arya Kangsadewa, Anggi Putri Pratama | 79-85 |
| | | |
| --- | --- | --- |
| | Novia Putri, Solikah Nurwati, Ani Mahrita | 86-95 |
| | | |
| --- | --- | --- |
| | Ernawati ., Arief Nurdiannova Qurochman, Isti Wijiningrum | 96-102 |