DOI: https://doi.org/10.21107/jsmb
Jurnal Studi Manajemen Dan Bisnis (JSMB) ISSN: 2460-3775 (Online) dan ISSN: 2355-9543 (Print) administered by the Master of Management Faculty of Economics and Business, University of Trunojoyo Madura. This journal is here to accommodate innovative thinking of academics, researchers and practitioners in the publishing of scientific papers have been produced, both the study of theory and research. Through innovative thinking, the expected scientific developments, especially in the field of Management and Business can be achieved. JSMB issue twice a year (bi-annual) in June and December.
This journal focuses on topics: corporate governance, human resources, strategic management, entrepreneurship, marketing management, the Management and information system, financial management, decision analysis, management research, Tourism Management, Green Management, and others. 
To submit your article to Jurnal Studi Manajemen dan Bisnis, please ;
We proudly announce that Jurnal Studi Manajemen dan Bisnis has indexed by Google Scholar, Portal Garuda, Dimensions, etc
Jurnal Studi Manajemen Dan Bisnis (JSMB) has been accredited as a scientific journal by the Ministry of Research-Technology and the Higher Education Republic of Indonesia: SK-Akreditasi Nomor 85/M/KPT/2020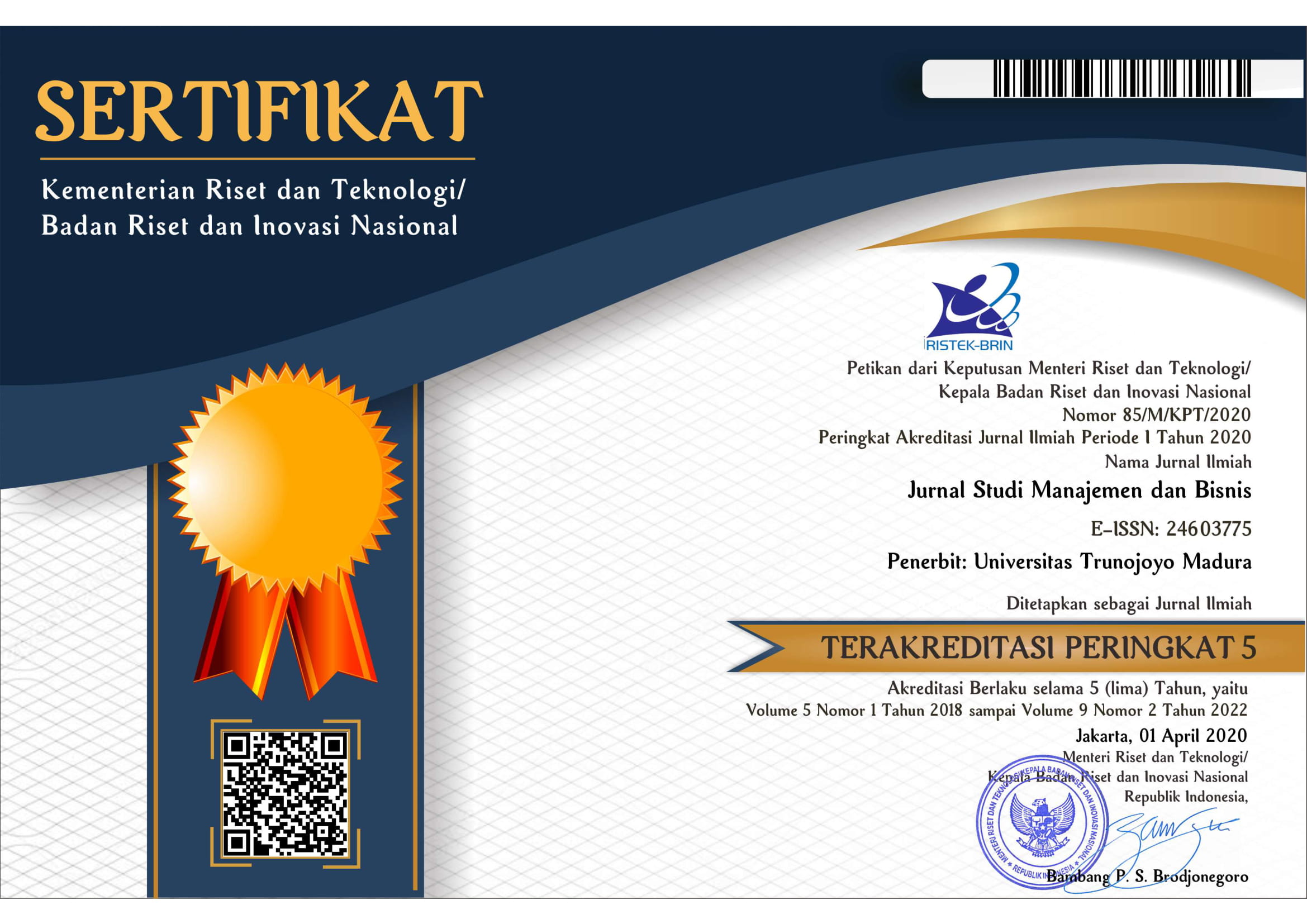 Master of Management
Faculty of Economic and Bussiness
University of Trunojoyo Madura
Jl. Raya Telang, Kamal - Bangkalan Postal Code 69162
email: jsmb@trunojoyo.ac.id
Office: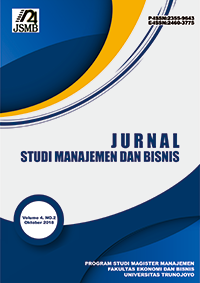 Announcements
No announcements have been published.
Vol 8, No 2 (2021): Desember
Table of Contents
Articles
| | | |
| --- | --- | --- |
| | Erlitawati Kaharudin, David Triyono, Alexander Nova Vernando | 1-8 |
| | | |
| --- | --- | --- |
| | Alfian Qomaruddin, Sundjoto Sundjoto | 9-13 |
| | | |
| --- | --- | --- |
| | Fatimatul Fatmariyah, Iskandar Ritonga, Luluk Latifah, Fathor AS | 14-26 |
| | | |
| --- | --- | --- |
| | Kevin Reynaldi Bagaskara, Leonard Adrie Manafe, Viviana Sulistya Angraini, Mayrine Christiyah Nugrahini | 27-34 |
| | | |
| --- | --- | --- |
| | Alia Engka Nadita Putri, Tati Handayani | 35-43 |
| | | |
| --- | --- | --- |
| | Tegar Graha Adiwiguna, Megawati Simanjuntak, Kirbrandoko - | 44-54 |
| | | |
| --- | --- | --- |
| | Endah Masrunik, Agustyas Retno Hernani | 55-59 |
| | | |
| --- | --- | --- |
| | Dian Eko Wicaksono, A.J. Tjahjo Anggoro | 60-73 |
| | | |
| --- | --- | --- |
| | Ainun Rizky Ramadhani, Rita Indah Mustikowati, Irma Tyasari | 74-81 |
| | | |
| --- | --- | --- |
| | Dessy Handa Sari, Nurul Musfirah Khairiyah, Totok Ismawanto | 82-88 |
| | | |
| --- | --- | --- |
| | Maiya Liza, Abdul Haris Haris, Nurul Fatimah | 89-98 |