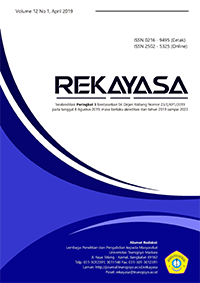 DOI: https://doi.org/10.21107/rekayasa
Rekayasa is Scientific Journal of Science and Technology (ISSN: e.2502-5325 p.0216-9495). it is open access and peer-reviewed journal, published by LPPM Universitas Trunojoyo Madura, which is a dissemination medium for research result from scientists and engineers in many fields of science and technology.
Aim and Scope: Agriculture; Engineering; Environmental Sciences; Technology; Basic Sciences and Science Education
Rekayasa is a biannual journal issued in April and October. The editors welcome submissions of papers describing recent theoretical and experimental research related to (1) Theoretical articles; (2) Empirical studies; (3) Practice-oriented papers; (4) Case studies; (5) Review of papers, books, and resources.
Rekayasa has been indexed in: Sinta, Google Scholar, Garuda, Crossref, OneSearch, Dimension, ISJD, BASE, IndexCopernicus, Moraref, WorldCat etc
    Please check Rekayasa Archives (2008-Now) HERE
    Please check the Author Guidelines HERE
    Please send your best Manuscript HERE
Since 2019, the journal has been Re-ACCREDITATED with grade "SINTA 3" by the Ministry of Research, Technology and Higher Education (RistekDikti) of The Republic of Indonesia (Arjuna) as an achievement for the peer-reviewed journal which has excellent quality in management and publication. The recognition published in Director Decree No. 23/E/KPT/2019 August 8th, 2019 effective until 2023.
FYI: This journal has been accreditated with Grade"SINTA 4" since the year 2016 to 2020 according to the decree No. 21/E/KPT/2018. 
Publisher:
The Institute for Research and Community Service
University of Trunojoyo, Madura
Graha Utama Building 1st Floor
Jl. Raya Telang, Kamal - Bangkalan 69162
Announcements
News!!!: Crosscheck Akun di Jurnal Universitas Trunojoyo Madura

Yth. Reviewer, Editor dan Author
Rekayasa [ISSN: 2502-5325 (Online)]
https://journal.trunojoyo.ac.id/rekayasa


Jurnal Universitas Trunojoyo pada tanggal 17 September 2019 meng-upgrade Sistem OJS nya ke versi 2.4.8.5, oleh karena itu dimohon bagi Reviewer, Editor dan Author untuk memriksa kembali akun dan data di Jurnal Rekayasa.

Untuk masuk ke laman user klik tautan berikut https://journal.trunojoyo.ac.id/rekayasa/login, apabila tidak dapat masuk, silahkan reset password ke laman berikut: https://journal.trunojoyo.ac.id/index/login/lostPassword

Apabila terdapat ketidaksesuaian, dimohon menghubungi technical assistance Alfian Qomaruddun melalui WhatsApp 085335339697 atau Email ke alfian@trunojoyo.ac.id

Demikian pemberitahuan kami, mohon maaf atas ketidaknyamanannya.

Editor in Chief
Dr. Zainul Hidayah, S.Pi., M.App.Sc.

Posted: 2019-09-20

News!!!: Rekayasa, Vol 12 No 2, Oktober 2019: In Press

Thank you, for registering your best manuscript into Rekayasa
Posted: 2019-08-30

News!!!: Acreditation by Arjuna Ristekdikti

Since 2019

, the journal has been 

Re-ACCREDITATED

 with grade 

"SINTA 3"

 by the Ministry of Research, Technology and Higher Education (RistekDikti) of The Republic of Indonesia (

Arjuna

) as an achievement for the peer-reviewed journal which has excellent quality in management and publication. The recognition published in 

Director Decree No. 23/E/KPT/2019 August 8th, 2019 effective until 2023

.

Posted: 2019-08-30